Avis de décès
Pamalah Conger Tipps
20 novembre 1948

–

7 août 2022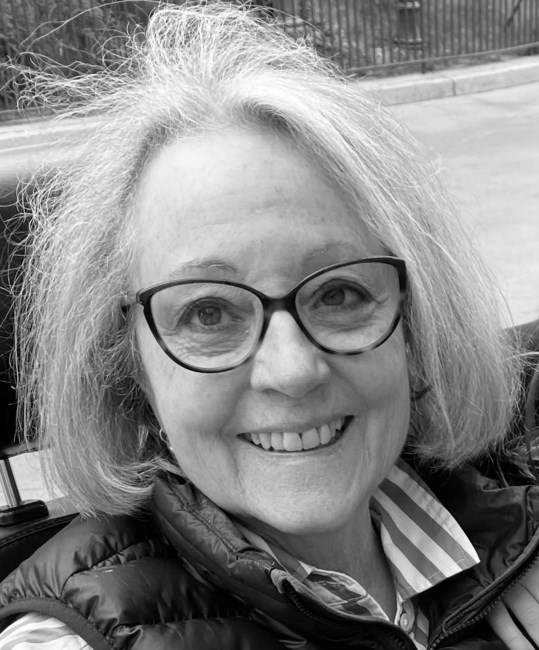 Pamalah Conger Tipps, 73, died peacefully early Sunday afternoon, August 7, 2022, at her beloved Greystone in Colorado's Rocky Mountains, a little over three years after she was diagnosed with metastatic breast cancer. Pamalah was born on November 20, 1948, in Bryan, Texas. Her parents, Bob and Leta Conger, both school teachers, moved when she was a toddler to Denver City, Texas, where Pamalah grew up. She graduated from Denver City High School in 1967 and earned bachelor's and master's degrees in speech pathology and audiology at Baylor University in 1970 and 1971. Her first job was as an early childhood speech pathologist in the La Marque Independent School District. On May 1, 1978—"May Day"—Pamalah married Stephen Tipps, whom she had first met 24 years earlier when his family moved to Denver City, laying the groundwork for a happy life as a loving wife, mother, and grandmother. Pamalah and Stephen's daughter, Catherine, was born in 1979 and their twin sons, Peter and David, in 1982. Pamalah was devoted to her husband and children. All three of the children attended pre-school at Annunciation Orthodox School, and Pamalah quickly became involved in the life of the AOS community, learning, among other things, how to make Greek pastries. She was asked to join the school's board of trustees and ultimately served as the board chair. During her tenure as chair, she presided over the school's successful separation from its founding church, which helped pave the way for its ascent within the Houston private school community. Her involvement in the school lives of her children continued when they transferred to St. John's School. She planned and hosted numerous class parties and became a fixture at middle school and high school football games, which she videotaped as an exercise in self-control: if she was videotaping a game, she couldn't yell at the game officials when they made bad calls. This strategy worked most of the time. A high point of her SJS involvement was joining with a friend to perform "The Perfect Cheer," made famous on Saturday Night Live, at Catherine's senior class parent night. The skit was so successful that she and the friend revived it three years later when Peter and David were seniors. When her children were older, Pamalah returned to the work force as an educational diagnostician, working first at AOS and then for twelve years at SJS, administering evaluation tests to prospective kindergarteners and first graders. She greatly enjoyed the work, the children, and the insightful things they had to say. She prayed for each one individually. A longtime member of Victory Houston, an affiliate of the American Cancer Society, Pamalah co-chaired that organization's annual Cattle Baron's Ball in 1996. Treating it as a labor of love, Pamalah spent over a year planning, organizing, and executing the "party of all parties in Houston." Themed "A Night in Old Santa Fe," the event attracted over 2,000 guests and raised nearly a million dollars for cancer research, education, and patient services in the Houston area. After leaving the formal work force, Pamalah relied upon her remarkable creativity to establish a scrapbooking business. She was a true artist. Working for several high-end Houston clients, she enjoyed their travels and other adventures vicariously as she chronicled their experiences in beautifully prepared works of art. Her greater joy, though, came from scrapbooking the lives of her children and grandchildren, which resulted in highly valued family treasures. In 2008 Pamalah achieved a lifelong dream when she and Stephen purchased a beautiful mountain home in Estes Park, Colorado, where, upon Stephen's retirement in 2014, the two of them spent five or six months every summer and early fall. Quickly named "Greystone," the house became a primary family gathering spot during Independence Day week and most Thanksgivings. As their family grew, more bedrooms were added, culminating with a grand gathering this past July at which all 16 family members were present. Greystone was Pamalah's happy place. A legendary party-giver, Pamalah was well known and loved for the themed events she planned and hosted in both Houston and Estes Park. It was important to her that the parties were meticulously planned and that her guests felt special and loved. The themes ranged from Olympics parties, for which each guest couple was assigned a country and medals were awarded for best food and drink, costume, and presentation; to Royal Wedding Watch parties on the occasions of William's and Harry's marriages, which necessarily occurred in the middle of the night; to a Black and White Dinner party at Halloween at which the suggested attire was "elegant black or white, masks optional." An invitation to one of Pamalah's parties was a coveted possession. The greatest joy of her life was raising her three children. She poured her soul into them, teaching them, inspiring them, and loving them. She discovered places in her heart that she didn't know existed before she had her children. She re-discovered those places twelve years ago when her grandchildren began to arrive. First Nathan, then Eleanor and Andrew, then Annabel and Nolan, and then Maggie, Luke, and Ishant. Each quickly came to love and adore their "Coco." One of Pamalah's most prized possessions was a scrapbook in which she collected various quotes from her grandchildren. She played board games with them, cooked with them, and watched them play baseball, softball, football, and soccer. They were the source of immeasurable joy and happiness. One of Pamalah's close friends observed that she "made others feel loved." They were. Another wrote, "She made the ordinary extraordinary. She was an amazing friend—kind, devoted, and sassy." She did, and she was. Above all else, Pamalah found true internal peace and comfort in her steadfast faith in Jesus. Even in the face of a terrible medical diagnosis, reading the word of God, praising Him, and thanking Him for what He has done gave her hope, peace, and reassurance. Cancer may have taken her body, but it only strengthened her faith in the Lord. She now knows perfect happiness. Pamalah was predeceased by her parents, Bob and Leta Conger. She is survived by her husband, Stephen; her daughter and son-in-law, Catherine and Keith Vendola, and their children, Nathan (12), Andrew (9), and Luke (5); her son and daughter-in-law Peter and Claire Tipps and their children, Nolan (7), Maggie (6), and Ishant (3); her son and daughter-in-law David and Molly Tipps and their children, Eleanor (9) and Annabel (7); and her sister, Marcia Conger, and her children and grandchildren. Pamalah's family wishes to express profound thanks to Candy Wall and Kathleen Theriault, the home-care hospice nurses who cared for her during her final days. A memorial service celebrating Pamalah's life will be held at 11:00 a.m. on Friday, August 19, in the main sanctuary at St. Luke's United Methodist Church with Rev. Dr. Tom Pace officiating. A reception will follow in the church's fellowship hall. In lieu of flowers, friends wishing to make memorial contributions are encouraged to make donations to Estes Park Health Hospice, 555 Prospect Avenue, Estes Park, Colorado 80517, or to the charity of their choice.
VOIR PLUS
VOIR MOINS
Prestations de Service
Aucun service public n'est prévu en ce moment. Recevez un avis lorsque des services sont mis à jour.
recevoir des avis
En mémoire de
Pamalah Conger Tipps