Avis de décès
Dale Oliver Weberg
20 juillet 1942

–

23 janvier 2023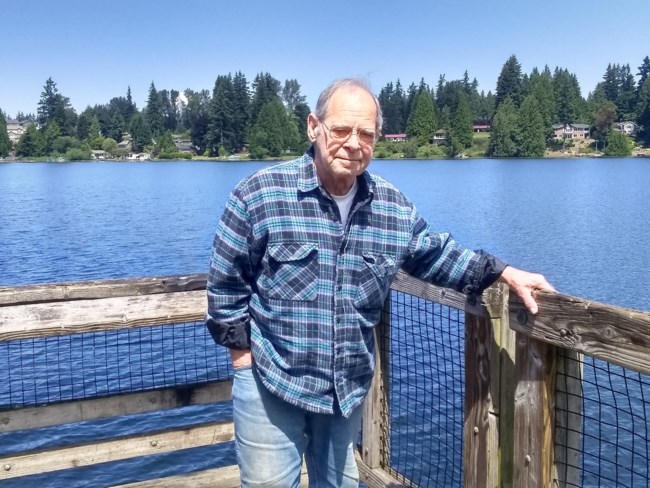 Dale Oliver Weberg, age 80, of Lynnwood, Washington passed away on Monday, January 23, 2023. Dale was born in Seattle, WA. Dale died on January 23, 2023 in Lynnwood, WA. This was on Sandy's birthday. He will be missed horribly and is loved beyond. Dale was an artist, sculptor from the time he was 5 years old, carving soap, blocks of ice and making forms out of aluminum foil. Dale made beautiful jewelry and many rings for Sandy. In grade school, he had many stories about his teacher, Miss Margaret. She took him to see tigers, birds and a number of other animals with their keeper's home. He graduated from Ballard High School in 1960. He loved school. He liked hanging out in Grace Henning's Art room. He also went to summer school and his teacher, Mr. Entiman, was a high up military person. He took Dale to a military aircraft base in Everett, and when they walked into the hanger, he asked Dale, What do you see. Dale had to look around and realized he was walking under a giant UFO that was humming and off the ground about as high as the ceiling in our house. After that he didn't just believe in UFOs, he knew they were real. Dale also saw another UFO when he worked for the phone company at Paine Field. It was later moved to Spokane. Dale trained and sparred with friend, Eddie Engle, at the end of his High School years. Eddie won the Middle Weight Boxing Championship that last year. His parents had a party and thanked Dale for being his sparring partner and said Eddie could not have done it without Dale. Dale worked at the Seattle Center during the Seattle World's Fair in 1962. He did landscaping and gardening with Mr. Kiamoto. He loved this job. He worked for a few other companies, including Fredrick and Nelson. He enjoyed all the people he worked with there and had many stories. Dale worked for Pacific NW Bell for 15 years and retired. He and Sandy organized the first and second Fine Arts Exhibitions that were held with the University District Street Fair in 1975 and 1976. This was extremely fun and he had his friend, Tom Robbins, the author of many books, including Another Roadside Attraction. Tom was a juror and so was his teacher, Grace Henning, Al Mooser, and Clarence Harris. He worked at Lynnwood Lanes for a number of years as a Bowling Instructor and manager of the Pro Shop drilling bowling balls. He called midnight bowling and worked with all the leagues. Dale has a sculpture in the Edmonds Park, next to he ferry holding lanes. It is called "Winds of Change." It is mentioned in the Smithsonian Institute of Art. The sculpture was donated to the City of Edmonds by Bennett Box, Attorney and friend. He took Drum lessons from Jeff Mills for a number of years. It was a highlight in is life. He enjoyed going to many live concerts to see Jeff play with the band Nite Wave and many others. He would always come and sit with us during intermission. Dale knew that was very special. Dale was a master craftsman and could build and fix anything. He knew electrical, plumbing and finish carpentry. He also did a lot of auto repair. He especially liked working with his son, Chris, doing carpentry. His daughter, Toni Jo Weberg, died on August 31, 1990. She was 17. We were all devastated. We went to Europe a little while later to get away from our grief. But we soon realized, that wherever you go, there you are. No escaping it. He enjoyed the Eiffel Tower, museums, and going down in the underground catacombs. He worked for Susan and David Heckerman in Bellevue. He finished an apartment above the garage. David says all of his work is still beautiful. They sent Dale and Sandy to Santa Monica and Malibu to work on their homes there. Another highlight in their lives. We lived on Swamp creek and worked to keep it clean for the fish, racoons, possum, birds, heron, beaver and ducks. He fed the ducks religiously corn and bread. They waited for him daily just before dusk. He loved seeing the coyotes and hearing them howl at the sirens on the freeway. Sometimes, you could hear a couple dozen around the house with their babies. Deer would also come through our yard and even up on our patio. His hobbies were fishing, bowling, playing drums, bird watching, feeding the wild life (coyotes, raccoons, possum, birds and ducks). Dale loved his children, grandchildren, and great grandchildren and always reminisced about backyard BBQs, Christmas gatherings and visits from them as they grew older. He enjoyed seeing them on Facebook to keep up to date with what they were all doing. We will all miss Dale with all our hearts. He had many friends throughout his life and loved and enjoyed them all. He had the best stories, and we all loved him to pieces. Name: Dale Oliver Weberg Age: 80 Date of Birth: 07/20/42 Place of Birth; Seattle Wa Place of Death: Lynnwood Wa Deceased Education: High School: Ballard High School, class of 1960 No Millitary Career: Main Career: He was a cable splicer for PNB for 15 years He was a master carpenter, artist and sculptor of 75 years Membership: Religion: Christian Fun: Bowling, Fishing, Drumming, Enjoying wildlife in our yard Personal Interest: List of activities enjoyed: Gardening, feeding wildlife (birds, ducks, racoons, possum). Drumming, bowling instructor Marriage Information: Spouse: Sandra Weberg (Bahr maiden name) Married 3/16/70 Location of Marriage: Seattle, WA How long married: 52 years Preceded in death by: Parents: Leo and Olive Weberg Sister: Leola Weberg Brother: Keith Weberg Daughter: Toni Jo Weberg Nephews: Jason Sparks Nephews: Nathan Bahr Survived By: Wife: Sandra Weberg Children: Son: Christian Weberg (Betsy Woodward wife) Daughter: Robin Calhoun (Rob Calhoun) Son: John Weberg Step daughter: Sherene Kershner Number of Grandchildren: 9 Adam Weberg, Olivia Weberg, Brianna Weberg Nick Weberg, Natalie Weberg, AJ Handley Anastasia Calhoun, Alex Calhoun, Austin Calhoun Great Grandchildren: Alianna Weberg Peyton Weberg Paxton Weberg Sophia Weberg Other Individuals to Mention: Sister, Faithann Gill (Don Gill, Husband) Nieces: Deanna Gill, Shelbi Engle Brother-in-law, Bob Bahr, Teresa Bahr, Wife Niece, Bobbi Dawn Cacatian Niece, Laura Brown Nephew: Stephen Brown Nephew: Eli Bahr Fond memories and expressions of sympathy may be shared at www.floralhillslynnwood.com for the Weberg family.
VOIR PLUS
VOIR MOINS
Prestations de Service
Aucun service public n'est prévu en ce moment. Recevez un avis lorsque des services sont mis à jour.
recevoir des avis
En mémoire de
Dale Oliver Weberg
Aidez à raconter l'histoire de la vie unique de votre bien-aimé. Laissez un souvenir ou partagez une photo ou une vidéo ci-dessous pour montrer votre soutien.