Avis de décès
George Anthony Cortello
6 octobre 1934

–

15 janvier 2022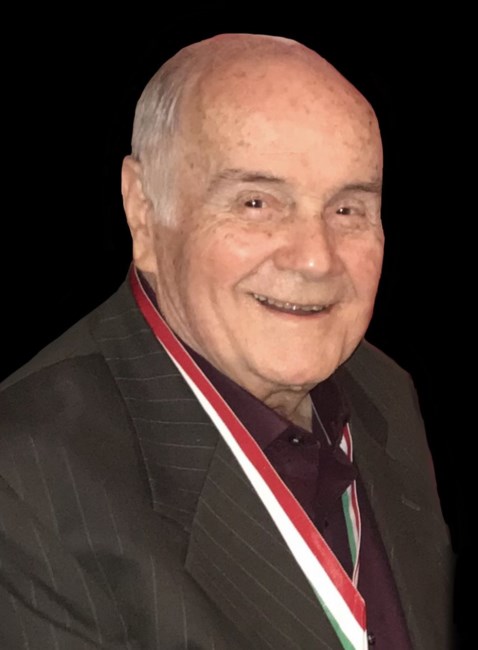 New Orleans native George Anthony Cortello, surrounded by his loving wife, children, and grandchildren, entered into eternal rest in the early morning hours on Saturday, January 15th, 2022. George was born on October 6th, 1934 to Anthony Joseph Cortello & Elenora Lucy Miller Cortello in New Orleans' famed Irish Channel neighborhood. He is survived by Fay Cannizzaro Cortello, his lovely & doting wife of over 58 years, whom he married in November of 1963 at Holy Rosary Church on Esplanade Avenue. Survivors also include his children, Darryl J. Cortello (Ellen), Courtney C. St. Germain (Earl) , Kyle A. Cortello (Kelly), Anthony "Tony" G. Cortello (Loreto), Dante J. Cortello (Diana) and his grandchildren Aubrie, Giovanna, Blair, Dominic, Nicholas, and Madeline. He is also survived by sisters Ellen Cortello Frisard & Jackie Cortello Beck (Al Pontiff), brother-in-law Joseph Cannizzaro (June) and a host of nieces & nephews that he so beautifully connected with. He is preceded in death by his aforementioned parents, siblings Janis Cortello During and Malcolm Joseph "Chick" Cortello, brother-in-law Malcom Frisard, brother-in-law John Robert Cannizzaro (Denise), sister-in-law Elaine F. Cortello, nephew-in-law Thomas Housey (Margie), niece Karen Cortello, nephew Robert Cannizzaro, Walton "Duke" Duplantis and granddaughter Jordyn Renée St. Germain. A 1952 graduate of Redemptorist High School, the Italian kid from the Irish Channel never wavered from his neighborhood roots. He counted amongst his closest friends several of his grade school classmates, Redemptorist Ram high school teammates (Basketball; Baseball), and many others he considered himself fortunate enough to collect along the way. He fondly remembered his boxing days at St Alphonse's CYO and Kingsley House back in the Channel. After graduating HS, George served his country faithfully & admirably in the United States Air Force (1952-1956) as a member of the 6910Th Security Group. He was stationed in Lansburg, Germany. He then attended Louisiana State University and was a student there when his beloved Tigers won the 1958 National Championship. He also attended Tulane University. His career path began with the Chrysler Corporation, and he provided well for his Family as an Insurance Agent for many years thereafter. In 1987 he purchased Franky & Johnny's Restaurant in Uptown New Orleans and was its Owner/Operator for 26 years, retiring in 2013. There, he happily laid down six and seven day work weeks and considered the turnstile of his customers friends, many of his employees Family, and a few unpaid bar tabs "expensive, but still a good time." He was a parishioner of St. Benilde Catholic Church in Metairie for over 50 years and his 5 children all graduated from SBS. George devoted his life to his wife & children. His Family was the most important thing to him, and it never really mattered where he was, as long they were with him. That Family included his siblings, nieces, and nephews, all of whom he loved so very much. He spent countless nights, weekends, and dollars at his children's ball games and above all, taught them that being a good sport & a good teammate was just as important as a victory…Almost. Whether it was at Cleary Playground, St. Benilde, or Archbishop Rummel High School, he rarely missed their games. He was a loyal New Orleans Saints fan, holding season tickets for 35 + years and if he wasn't in attendance, he always enjoyed watching his Saints and LSU Tigers play with a cold beer and his Family nearby. He was a Charter Member and Past President of the Italian American Saint Joseph's Society and served on its board until his passing. He was a staple member of the Club, and truly loved riding in his chariot for the Annual Parade in the historic French Quarter. He never once balked when his sons and grandsons "borrowed" his beads or flowers to hand out because they ran out of their own. And he doted on his daughter and granddaughters when they served the club as Maids and Queens in the event. The post-parade ball wasn't complete without a few dances with Fay and the famed Tarentella Dance by all in attendance. He proudly marched with the Irish Channel Marching Club for the St Patrick's Celebration on several occasions and was a member of The Jesters Social Club and TAK. His spirit and legacy will continue forever through the generations of his Family that will follow. He is already missed. The Cortello Family would like to thank the ICU Staff at Ochsner Hospital/Main Campus for their personal touch throughout his stay there. It won't be soon forgotten. Family & Friends are invited to attend the Memorial Service at Lake Lawn Metairie Funeral Home, 5100 Pontchartrain Blvd, New Orleans, LA 70124 on Thursday, January 20th. Visitation is from 10 AM – 1 PM, with Mass and interment immediately following. Please consider a donation to the Italian American Saint Joseph's Society (iasjs.org) and/or Angel's Place – New Orleans (angelsplacenola.org) in the name of George Cortello.
VOIR PLUS
VOIR MOINS
En mémoire de
George Anthony Cortello
Aidez à raconter l'histoire de la vie unique de votre bien-aimé. Laissez un souvenir ou partagez une photo ou une vidéo ci-dessous pour montrer votre soutien.