Avis de décès
Helen Elizabeth Christenson
18 avril 1918

–

27 septembre 2022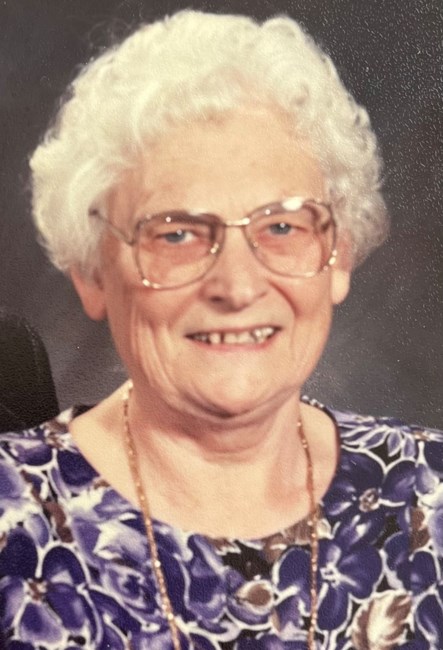 Helen Elizabeth Groth Christenson – a faithful servant of the Lord Jesus Christ, beloved wife, mother, and grandmother – went home to be with the Lord on September 27, 2022, at age 104. Helen was born Canadian on April 18th, 1918, in Ottawa, Ontario to Dr. Arthur and Mrs. Cora Groth. When Helen was five, she became a United States resident when the Groth family moved to Pasadena, California. Amongst her ministerial travels, WWII support efforts, and community engagement, Helen also assisted with her father's medical practice until she married Wesley Wallace Christenson on November 7, 1949, and moved for the remainder of her days to Red Bluff, California. Helen honed her mastery of the Spanish language while living abroad. She traveled to the Dominican Republic for two weeks and stayed for two years, supporting missionaries. This lit a life-long passion to use language to offer kindness and care to those who found themselves in a strange land and carved the Spanish language deep in her heart. She was a frequent translator at St. Elizabeth's Hospital as well as for neighbors within the community. Even in times when memory failed her, Helen's heart effectively – and joyously – communicated through Spanish. Helen and Wesley spent 71 years together in Red Bluff. They raised a family of six, farmed the land, and opened their home to friends and strangers until Wesley died in 2021. Their life together in service – spiritual and practical – left a legacy of love within every community in which they participated. Helen lived a life marked by an extraordinarily intentional faith. Hers was a life lived daily in the presence of God, whom she called Friend. Helen's great joy was sharing that Friend with anyone in her presence – making God accessible, real, and approachable through her actions and conversation. With spunky wit, timely quips, and gracious humor, Helen freely shared her wisdom and infectious joy of life with loved ones and strangers alike (though strangers rarely stayed strangers for long). Helen shared with Wesley a great affinity for the outdoors. She continuously delighted both in the creation surrounding her and in what that creation might share with her about the Creator. For Helen, a walk through the walnut orchard was spent strolling in companionship with its Artist in exploration of His latest gallery. Helen will be deeply missed. There is great comfort to be had in the knowledge that she is once more united with her cherished husband and the many friends and family who have gone before. What peace to think of Helen there, finally standing with "exceeding joy" in the presence of her God and Friend. Preceding her in death were her husband, Wesley; brother and sisters, Howard Groth, Lois Groth, and Marion Brimlow; sons-in-law, David Clark and Arthur Buchanan; and great granddaughter, Lydia Buchanan. Helen is survived by her six children: Arthur Christenson, Elsa Buchanan, Harriet Weeks (Daniel), Sara Macy (Roger), John Christenson (Anna), and Cora Robinson (Mark); sixteen grandchildren: Hans Buchanan, Barry Buchanan, Heidi Wright, Benjamin Clark, Timothy Clark, Camille Tippe, Amanda Macy, Andrew Macy, Jennifer Silva, Abigail Sutherland, Katie Christenson, Nathan Christenson, Eliana Clark, Asa Robinson, Serena Robinson, Samara Robinson; and seventeen great-grandchildren: Isla Buchanan; Jadon Buchanan, Jared Buchanan, Elisha Buchanan; David Clark, Peter Clark; Chloe Clark, Maxwell Clark; Charlotte Macy; Titus Robinson, Micah Robinson, Clara Robinson; Barrett Sutherland; Annie Wright, Caroline Wright, William Wright, and Tucker Wright. Our family wishes to express our gratitude to the following wonderful people who, over the past 4 years, have helped us at various times to fulfill our desire that Mom would be able to live in her own home until she was called to her Heavenly Home: Ashley, Caytlin, Colleen, Elizabeth, Erin, Helene, Jan and Tim, Kathy, Louise, Marty, Melissa, Paula, Tania, and Violet. You were there when a family member could not be, and we are so grateful! Thank you. Services will be as follows: Sunday, October 16, 2022: Viewing 4:00 pm-7:00 pm at Chapel of the Flowers, Red Bluff, CA Monday, October 17, 2022: Funeral 10:00 am at the Christenson Family Farm, immediately followed by a processional to the graveside. A reception will be held back at the farm, with an opportunity for anyone to share memories of Helen with her family and friends.
VOIR PLUS
VOIR MOINS
Services Précédents
dimanche,
16 octobre, 2022
Visitation
En mémoire de
Helen Elizabeth Christenson
Aidez à raconter l'histoire de la vie unique de votre bien-aimé. Laissez un souvenir ou partagez une photo ou une vidéo ci-dessous pour montrer votre soutien.