Avis de décès
Amber Cherie Darnell-Fairris
10 juillet 1984

–

11 septembre 2022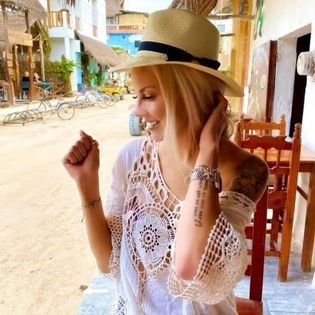 Amber Chérie Darnell-Fairris, age 38, passed away on September 11, 2022, in Anaheim, CA. Amber was born on July 10, 1984, in the small Northern California town of Fall River Mills, CA. She was the daughter of Shannon Darnell and Cindi (Brannon) Cohen. The oldest of three kids, she loved being from a smaller community and being able to spend time with her grandparents, aunts, uncles, and cousins that lived nearby. This quiet mountain town and the bonds she shared with it helped shape the values she would carry throughout her life. She possessed a fierce loyalty to the people she loved and kept close, and her siblings and friends would tell you that she would be the first to stand up and defend them when faced with adversity. Amber had incredible strength of will, and often lived by her own rules (which would produce a number of exciting stories… and a few speeding tickets). When Amber turned 14 years old, she was diagnosed with Lupus, and it was at that point her family learned that she would be faced with a lifelong battle against the incurable disease. It was in this fight with Lupus, which would span over 24 more years and include two kidney transplants, that her stubborn refusal to quit would most serve and sustain her. Throughout her life, Amber incorporated beauty and creativity into all aspects of her identity. As young girls, she and her sister would put on makeup and hot rollers with their beloved Grandma to "beautify." That moment would serve as more than a cherished memory; it would introduce her to one of her favorite methods of expression. Amber would let the emotions and colors of her soul show through the art she would wrap around herself. One could often tell the way Amber would be feeling on a given day by the clothes she would wear, or even what shade her hair may be at that time. For the things she felt deepest, she wasn't afraid to tattoo them right on the surface of her skin. She often didn't need to say what was on her mind to those that knew her well, for they knew the other languages in which her spirit spoke. Listening to music was a cornerstone of Amber's self-expression and it remained a constant passion for her. Getting lost in a new album or going to a live show for her favorite bands provided a sanctuary that fortified her resolve through the hardest times and enhanced the most joyful of occasions. No matter how complicated life would get, her favorite lyrics would be a familiar mantra she could return to. Amber had a smile that would light up a room and a sense of humor that would sneak up when you'd least expect it (such as referring to herself as 5' 13" when asked her height). She enjoyed life's simple pleasures such as catching a San Francisco Giants game or watching a good 80's movie with her dog, Penny. With a love for the outdoors, she travelled the world and awakened her spirituality through yoga and meditation. Above all, no matter what hardships or health issues Amber was faced with, she always found a way to persevere and carry on with the strength of someone who truly wanted to enjoy her time in this life. She will always be remembered for the happiness she inspired, her unyielding resilience, and the role she continues to play in our lives every day. In the words of Amber's favorite songwriter, Maynard James Keenen, "Life is too short not to create something with every breath we draw," and though she was taken from us far too soon, she enriched our lives and created a legacy of strength that leaves her loved ones forever changed. We will never stop missing her until the day we are all reunited, and she will be forever loved and kept in our hearts until then. Amber is survived by her loving family, including her parents, Cindi (Harley) Cohen of Murrieta, CA and Shannon (Georgia) Darnell of Redding, CA, siblings Lindsey (Dayne) Dietrich of Vista, CA, and Garrett (Savannah) Darnell of Temecula, CA, grandmother Cheryl Antonaros of Twin Bridges, MT, and grandfather Jim Phillips of Sarasota, FL. She is also survived by many aunts, uncles, cousins, and dear friends. Amber was preceded in death by her grandparents Leona and Royal Darnell, grandfather Kenneth Brannon, and stepfather Paul Leinenkugel. Graveside services will take place on Saturday, October 8, 2022, at 12 Noon at Pine Grove Cemetery in McArthur, CA with a Memorial following at the Fall River Veteran's Hall with food and drinks. Please bring a side dish or dessert and share some memories of our beloved angel. In lieu of flowers, the family is asking that donations be made in honor of Amber to Lupus Foundation of America (Lupus.org) or National Kidney Foundation (Kidney.org).
VOIR PLUS
VOIR MOINS
Services Précédents
Reception To follow service
En mémoire de
Amber Cherie Darnell-Fairris
Aidez à raconter l'histoire de la vie unique de votre bien-aimé. Laissez un souvenir ou partagez une photo ou une vidéo ci-dessous pour montrer votre soutien.