Avis de décès
Iris Alberta Hudson
28 février 1933

–

4 septembre 2022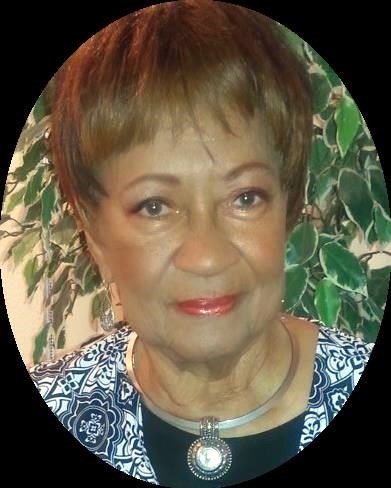 Iris Alberta Hudson, 89, of Phoenix, Arizona, passed away on September 4, 2022. She was born in Guthrie, Oklahoma on February 28, 1933 on the Williams family farm, the first born child of James Albert Williams and Neley Bell Jackson. They had two more daughters, and the middle daughter passed at two months old. At about the age of five, Iris moved to Oklahoma City with her mother and younger sister following a tragic accident that killed her father. It was there that her mother met and married Utah Watkins, Sr. and her two brothers were born to that union. After moving to the city, Iris left behind the one-room, country school house and attended Edwards and Dunbar Elementary Schools, and Blessed Martin de Porres Catholic School. She was an over-achiever almost from the beginning and easily skipped two grades. She was the quintessential outstanding student. Iris graduated from Douglass High School, where she was active in both school and community organizations, and received numerous awards and scholarships. She attended Dillard University in New Orleans, Louisiana and continued to receive the highest of accolades, pledged Delta Sigma Theta Sorority, Inc. and graduated Magna Cum Laude with a Bachelors of Science degree in Nursing. It was at Dillard that Iris met a handsome, young Business major, Wilbur Norman Hudson, Jr. of Evanston, Illinois. The rest is history, and they were married on New Year's Eve, December 31, 1955 in Oklahoma City. Two daughters and a son eventually completed their family. Iris was recognized for many accomplishments during her nursing career, starting with her appointment as the first Black head nurse at St. Anthony Hospital in Oklahoma City, nearly a decade before the Civil Rights Act of 1964 was signed into law. She later worked made her mark at Community Hospital of Evanston, Evanston Township High School, Commonwealth Edison Electric Company, and the City of Evanston Health Department Family Planning Clinic. Upon moving to Phoenix, Iris changed careers and was employed with Maricopa County Community College Library before retiring. Iris was tiny in stature but mighty in spirit. She was tough, smart, compassionate, always fair and had a heart for helping. She was an avid reader and had a life-long passion for all kinds of word games; and she loved her Phoenix Suns! Most importantly, she loved God and her family During her latter years, Iris battled several serious medical conditions, and was indescribably blessed with a second chance at life through a miraculous kidney transplant. She at last transitioned from this life on September 4, 2022. Her parents, Albert Williams, Neley and Utah Watkins; sisters Marguerite Williams and Florence English; brothers Utah Watkins, Jr. and Mark Watkins; and granddaughter, Danielle Hudson preceded Iris in death. She is survived by her devoted husband, Wilbur; loving children, Kim Graham (Phoenix, Arizona), Stephanie Hill (Bear, Delaware) and Wilbur (Olivia) Hudson, III (Scottsdale, Arizona); grandchildren Christopher Graham, Nicholas Graham, Patrick Graham, Ebony Denis, Christen Hill, Angela Hill, Nyomi Hudson, Nicole Hudson, Nia Tredwell; great grandchildren London Graham, Prince Graham and Josiah Jones-Hill; honorary family member, Lori and Vern Espinoza; and a host of beloved family members and dear friends.
VOIR PLUS
VOIR MOINS
PORTEURS

Christopher Graham - Son

Pallbearer

Nicholas Graham - Grandson

Pallbearer

Patrick Graham - Grandson

Pallbearer

Michael Wilson - Family Friend

Pallbearer

Doran Eason - Nephew

Pallbearer

Marcel Pratt - Family Friend

Pallbearer

London Graham - Great Granddaughter

Flower Girl

Angela Hill - Granddaughter

Flower Girl

Denice Graham - Granddaughter

Flower Girl

Ebony Dennis - Granddaughter

Flower Girl

Nia Treadwell - Great Granddaughter

Flower Girl

Nicole Hudson - Granddaughter

Flower Girl

Nyomi Hudson - Granddaughter

Flower Girl

Cheryl Burton - Family Friend

Singer
Services Précédents
vendredi,
16 septembre, 2022
Visitation
vendredi,
16 septembre, 2022
Funeral Service
En mémoire de
Iris Alberta Hudson
Aidez à raconter l'histoire de la vie unique de votre bien-aimé. Laissez un souvenir ou partagez une photo ou une vidéo ci-dessous pour montrer votre soutien.