OBITUARY
Frank Worley Donaldson
September 8, 1921

–

June 2, 2022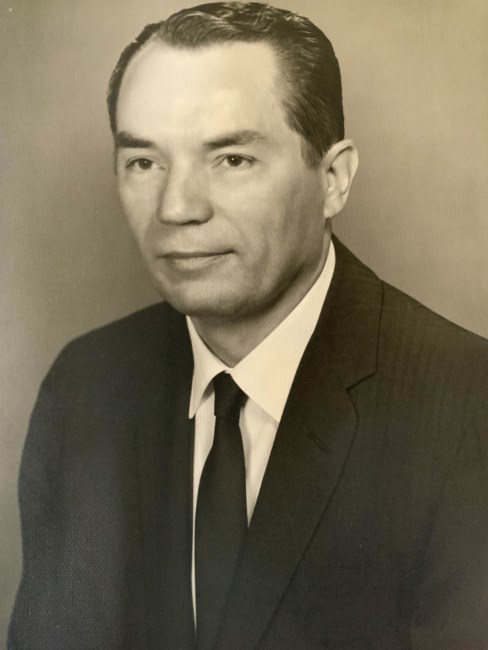 Frank Worley Donaldson passed away on June 2, 2022, peacefully and in the loving company of his family. His life of 100 years and nearly nine months was an extraordinary one by all typical measures, and especially exemplary as measured by the standard he held highest and that guided him throughout his life: a strong and abiding belief in the transformative power of the Christian faith. On the strength of this faith and by virtue of his own unique character, he always led more by example than by words, although the words, spoken in kindness, were always there when necessary. Frank Donaldson touched, taught and changed the lives of countless individuals. He did so both in quiet, often unseen ways, such as helping the indigent and downtrodden, and in more public and professional ways, such as instructing and mentoring future judges, senators, governors, members of Congress and statehouses, as well as numerous business leaders. Over the course of his remarkable life he served his country and the people he loved as a P-51 pilot and instructor in World War II, an FBI agent investigating Soviet actions in the US in New York City, the Pacific Northwest and the South during the early days of the Cold War, as a practicing attorney and law professor, as United States Attorney for more than a decade, as a legal scholar and writer, religious teacher and student, and through ongoing contributions in the arena of state and national political affairs. Like all great teachers, he was a lifelong student: of especially the law, politics, history and the Bible. Above all else, he was a devoted and loving husband for more than seven decades to his beloved wife Patti, while also making ample time to give abundant and consistent love, guidance and inspiration to his children and their spouses, their offspring and extended families. He was a gifted man who lived modestly and walked humbly, serving God and professing his faith throughout his life. He reaped, retained and shared the riches from which such a life is derived, with any and all people he met. Even with all that he did, he led a balanced life, characterized by gratitude, tolerance, and uncommon patience. Frank Worley Donaldson was born in Morristown, Tennessee, his family's home place since the 18th century, on September 8, 1921. His parents moved to Phenix City, Alabama in 1924, where his father had purchased a number of rental houses that would support his much-younger wife over the coming years, through the Depression and beyond. Phenix City was a famously lawless place at that time and for the next three decades, which may help explain Frank's lifelong interest in the rule of law and its proper enforcement. After graduating from Central High School, he enrolled in Southern Union College, transferring to Howard College (now Samford University) in Birmingham after his freshman year. In Birmingham, Frank earned a pilot's license before he had a driver's license. Following the Japanese attack on Pearl Harbor, he enlisted in the US Army Air Corps, soon to become the US Army Air Forces. He was quickly placed into General Hap Arnold's special Air Forces training command, "42X", (also known as "Hap Arnold's Guinea Pigs"), composed of young men who would become an elite pilot corps training thousands of fighter pilots. After the war, he served for a number of years as a major in the Air Force Reserve, first as a pilot then as a legal officer in the Judge Advocate General's Corp (JAG). He graduated in 1947 from Howard College, where he was student body president, with a degree in economics. It was at Howard that he met first-year student Patti Mullins, who was soon to become the great love of his life. They married in 1949, while he was an FBI agent in New York City. Frank resigned from the FBI after five years' service to attend law school at the University of Alabama. He graduated in 1954 and was a member of the Farrah Order of Jurisprudence, in recognition of high academic achievement. In the same year he began a law practice in partnership with William A. Thompson, with offices in the Comer Building in Birmingham. In 1962 he was invited to become a professor at the Cumberland School of Law, where he taught for 43 years. He loved teaching. He was widely and highly regarded as tough but fair, mentoring and helping students while in law school and as they began their careers. In the words of one, who went on to a long and highly successful career in public and government service, "Not only did he provide generations of law students with a superb legal education, he often provided a sturdy bridge to good positions in the legal profession with always heeded and well trusted recommendations." He sought to impart to his students attributes of candor, courtesy, competence, courage, and integrity. His students, more than 3,000 over the course of his career, were well aware of his high standards and expectations, one sign of his respect for them. In his own words, he believed in "making it known to his students that he had the highest regard for them, and was desirous that each one would become a top-flight lawyer." In 1981 he was granted what would become an 11-year leave-of-absence from Cumberland upon his appointment by President Reagan to serve as United States Attorney for the Northern District of Alabama. He served as US Attorney during both Reagan terms and under President George H.W. Bush, working with four different US Attorneys General. He also served on the Attorney General's Advisory Committee, typically a three-year term that in his case was extended an additional year. Consistent with his belief that the government, like families, should live within its means, he ran the Northern District of Alabama's federal office in the black, returning taxpayer dollars to the US Treasury and local law enforcement agencies, while still making life unpleasant for the bad guys. During this period, he continued to teach a law course at Cumberland, gratis, one evening each week. Following his federal service, he resumed teaching at Cumberland, continuing to teach courses until he was 85 years old. He taught Sunday School classes for more than 50 years, beginning when he was a law student, at Calvary Baptist Church in Tuscaloosa, then for many years at Helena Baptist Church near where his family lived for 23 years, and for many more years at Dawson Memorial Baptist Church. Professor Donaldson was a member of the Alabama State Board of Bar Examiners from 1965 to 1974. He was also one of the original drafters of the Alabama Rules of Civil Procedure. In the 1960s, he began an active role in Republican Party politics, pursuing his belief that Alabama would have a healthier political and public climate with two-party rule as opposed to the one-party political domination of that era. He took a leave of absence from teaching to run as the Republican candidate for the 5th Congressional District in 1968, in order to "plant the flag" for the beginnings of two-party representation in Alabama. As expected, he was trounced in that election, his home county of Shelby being as blue then as it is red now. He went on to serve for years on the Executive Committee of the State Republican Party. He remained active in the Mid-Alabama Republican Club until 2017. Frank loved sports, playing more than watching (except for the Braves). He was an avid tennis player until age 90, playing doubles with a group of older friends known as "The Human Backboards". He played a good game of golf, shunning golf carts, and for many years was fiercely competitive and agile on the handball courts at Samford's Seibert Gym. As a writer, in addition to his work on legal textbooks and monographs, he wrote numerous opinion pieces, speeches that were given throughout the state during his time as US Attorney, and his memoir, Glimpses of An Abundant Life. He read his Bibles diligently and many times over, with a preference for the power and poetry of the King James Version. In his Bibles, he made copious notes and annotations, notable for their depth, complexity and frequent illegibility. In addition to his public service in government, he also served on the Board of Trustees for the Hargis Foundation, was a long-time deacon at both the Helena and Dawson Memorial Baptist Churches, and was a Stephen Minister and on the Board of Trustees at Dawson Memorial. Frank is survived by his wife of 72 years, Patti Mullins Donaldson, his son David (Debbie), and his daughters Sharon Stuart (Tom) and Susan Irvin (Richie). Frank and Patti's beloved eldest son, Steve (Carol) passed away in 2018 after a long illness, leaving behind his own rich legacy with students and colleagues at Samford University, and through the books and monographs he wrote concerning science and religion. Frank was preceded in death by his father John Worley Donaldson (1852-1938), his mother Susie Appleby Donaldson (1881-1957), and siblings Andrew, Bernice, and David. The family carries forward its legacy with Frank and Patti's grandchildren: Rebecca Donaldson Rhea (Stephen), Joshua, Matthew (Caroline), Rachel, and Mary Katherine Donaldson (Steve and Carol Donaldson); Walker (Jess) and Ben (fiancée Meredith) Donaldson (David and Debbie Donaldson); Gracie and Matt Stuart (Sharon and Tom Stuart); Rachel and Hannah Irvin and Tyara Irvin Smith (Susan and Richie Irvin); and with great-grandchildren Emma, Maddie and Lily Rhea (Rachel and Stephen Rhea); Merritt Elle Donaldson (Walker and Jess Donaldson); and Jahvel Smith (Tyara and Wyston Smith). The family would like to extend its heartfelt thanks to the outstanding caregivers who have been there for Frank and Patti in recent years: Shannel Russell, Angela Fisher, Veronica Moore, Patricia Manns, and Kim Juarez. Their kind and loving care has been a great blessing and help to all. The family suggests that donations in memory of Frank W. Donaldson may be made to the Samford University Center for Science and Religion, co-founded by Steve Donaldson; to the Frank W. Donaldson Scholarship in Law fund, which is awarded to second or third-year law students at the Cumberland School of Law who demonstrate superior academic achievement, civility and professionalism; or to Samaritan's Purse. A memorial service in honor of the life of Frank W. Donaldson will be held at Dawson Memorial Baptist Church at 2 p.m. Central Time on June 16, 2022, with the family receiving those attending beginning at 1:00 p.m. in the sanctuary, followed by a brief reception immediately following the service in the Fellowship Hall. Fond memories and expressions of sympathy may be shared at www.johnsridoutselmwoodchapel.com for the Donaldson family.
See more
See Less
Past Services
The Family Will Receive Friends
In Memory Of
Frank Worley Donaldson
Help tell the story of your loved one's unique life. Leave a memory or share a photo or video below to show your support.