OBITUARY
Dennis Rezendes
September 9, 1929

–

June 16, 2015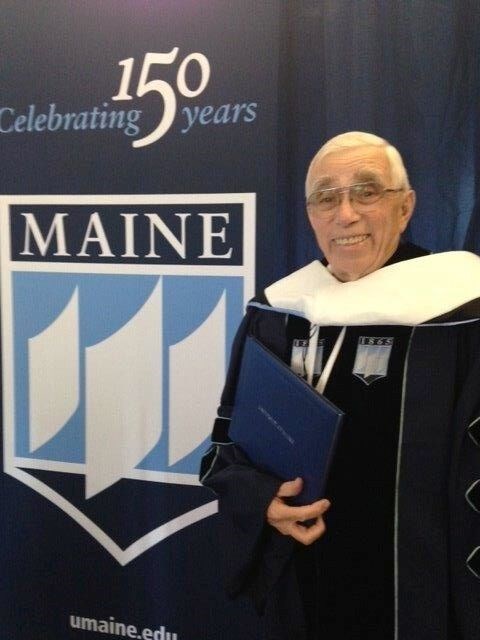 DENNIS' TRIBUTE, WRITTEN IN THE BOULDER DAILY CAMERA
http://www.dailycamera.com/news/ci_28391427/dennis-rezendes-85-founded-national-hospice-organization
-------------------------------
Dennis Rezendes of Boulder, CO, died peacefully in his sleep in the early morning of June 16, 2015, with his wife Beau and daughter Cheryl by his side. With the help, compassion and wisdom of TRU Community Care (formerly Hospice Care of Boulder and Broomfield Counties) and his stepson Seth, they were able to honor his wishes by caring for him in his beautiful home at the foothills of the Rocky Mountains.
Rezendes was born in Fall River, MA, in the fall of 1929 to second-generation immigrant Portuguese-Azorean parents John Medeiros Rezendes and Martina Souza Barreira. He was raised in Fall River during the Great Depression in a three family tenement house among both Portuguese and French-speaking immigrants. He graduated from Durfee High School in the class of 1948, completing five years of schooling so he could attend college rather than the suggested vocation and technician school recommended for the Portuguese-speaking students. After high school Rezendes went on to serve six years in the U.S. Air Force and was honorably discharged with the rank of Technical Sergeant. In 1954, with the help of the GI Bill, he attended the University of Maine where he graduated in 1957 Phi Beta Kappa after just 3 years with a Bachelor of Arts degree in Public Administration. Awarded a full scholarship and a living stipend, he went on to receive a Master's of Government Administration from the University of Pennsylvania's Wharton School of Business and Finance. Always driven to succeed at all odds, life necessitated that Rezendes also hold various jobs during his college years to support his first wife Constance LaPointe and their two young children. One job included being a door-to-door Fuller Brush salesman; another was to work as a Postman for the US Mail Service during the holiday season in Philadelphia.
Rezendes's diverse professional career has included positions such as stockbroker, private businessman, investor, lobbyist, political activist and college professor. His professional work began by serving as Director of Administration for the city of New Haven, CT, from 1960 to 1970. During that time he also held the positions of Budget Director, Acting Welfare Director, and Acting Parks and Recreation Director. In 1968 he created the Connecticut Conference of Mayors and on a volunteer basis assumed the position of its Executive Director. He was also Senior Vice President of the National Association of Business.
Rezendes was an early pioneer in the creation of the hospice program of care for the terminally ill in the United States. He was the first hospice administrator in the United States and was instrumental in the passing of legislation in Congress whereby Medicare and Medicaid recognize end-of-life hospice care for payment. He played a pivotal role in raising in excess of $20 million dollars on behalf of hospice programs nationally. He created the National Hospice Organization and was recognized by that organization for his pioneering efforts on behalf of the terminally ill. Many members of Congress as well as Presidents Ronald Reagan and Jimmy Carter also recognized him for his tireless and passionate work in the development of the hospice program of care for the terminally ill in America. In 1978 he established a hospice-related foundation called the National Institute of Training and Development.
Rezendes has received many awards of recognition, including the Stillwater Presidential Award in 2012 from the University of Maine, which "honors those who are extraordinarily engaged in furthering the mission of the University through leadership, loyalty and dedicated service." In 2014 he received the Bernard Lown '42 Humanitarian Award, which "recognizes dedication to the creation of a benevolent, peaceful society and the perpetuation of a caring and nurturing civilization. It recognizes outstanding service and impact on the regional, national or global level."
Most recently in May of 2015, Rezendes was presented with a Doctorate of Humane Letters Honorary Degree from the University of Maine to "recognize his exceptional contributions to society, scholarship and the arts." Throughout his life, Rezendes has endeavored to make the world a better place through work, education, philanthropy and volunteering, including traveling with his wife Beau to Africa, China and Portugal to teach conversational English.
As a volunteer and philanthropist, Rezendes devoted himself to educational and social justice causes at home and abroad. He was a strong believer in the power of education and its ability to open minds and change lives. With his wife and in the names of his Parents and his Aunt and Uncle Manuel and Estelle Carvalho, he contributed generously to scholarships and the arts and created endowments at his alma mater, the University of Maine, to support a visiting scholar in ethics, an ethics essay competition and the Honors College. With the help of Global Volunteers, he established a program enabling a student to volunteer for two weeks in a third world country.
In 2008 Rezendes self-published a 1,534 page, two volume autobiography titled "Looking Back To The Future: A Personal Journey" which chronicles not only the events of his life and an extensively researched genealogy of his family, but also its correlation to world history. Throughout his life Rezendes was an avid, daily reader of several newspapers and believed in the power and politics of the everyday citizen as well as the most illustrious politician. "I have learned that the right to vote is a precious privilege and the bedrock for the preservation of democracy," writes Rezendes.
A passionate world traveler, Rezendes also found joy in the smaller things of life here at home: a great Broadway play, the Museum of Modern Art, the opera, the music of Edith Piaf and Sarah Brightman, television reruns of the 3 Stooges & Sid Caesar, an ocean view, New England in the fall, the view of the Rocky Mountains and bird watching with a glass of wine from his favorite patio swing in Boulder, CO.
Rezendes was a dedicated family man, a loving husband to his best friend and wife of 34 years and a constant source of support to his family and friends. He reveled with pride in the joys and accomplishments of his children, stepchildren and grandchildren.
Dennis Rezendes was a man of great accomplishments, compassion, knowledge and wisdom. He came into this world as "a poor Portuguese boy from the wrong side of the tracks," and departed as a great and honored soul who has given the world so very much. A few pieces of wisdom from his book include "I have learned that unconditional love is the most valuable of all gifts to the giver and the recipient. It is a gift to be treasured. Unconditional love requires the inner strength to forgive and to practice tolerance and charity." And, "I have learned that war destroys civilizations and benefits but a few. Pacifism has given me inner peace."
Dennis Rezendes is survived by his wife Jacqueline Beau Rezendes, his daughter Cheryl Rezendes Rulewich and her husband Alan of Bernardston, MA, his son Michael Rezendes of Boston, MA, his two stepsons Shane Bohart and his wife Heather of Boulder, CO, and Seth Bohart and his wife Nicole who reside in Hong Kong, as well as his six grandchildren August Rulewich age 22, Brook Rulewich age 18, Grace Bohart age 15, Ethan Bohart age 11, Eligh Bohart age 4 and Jax Bohart age 2, as well as a myriad of beloved cousins who reside both in the United States and the Azores.
Rest in Peace Dennis Rezendes. We'll always love you.
------------------------------
TRIBUTE FROM BEAU, HIS LOVING WIFE
You were and are the love of my life, my soulmate and my best friend... Among the things I shall miss...
Holding hands in the middle of the night... Looking into your beautiful blue eyes… Dancing together… Your everyday behaviors of showing your unconditional love for me… Your gentle touch and kisses from behind… Hearing you randomly say "I love you, Beau," when you thought no one was listening (at your desk, in the shower etc)... Finding my tea cup "prepped" in the morning with a tea bag, waiting for hot water… Seeing you sitting at the breakfast bar eating your cereal with blueberries and reading the newspaper… Our regular Friday night dates… Sharing an appetizer and glasses of wine before dinner along with our favorite background music playing… Listening to you "pontificate" about national, local and world politics (and then you would declare "I'm going to get off my soapbox"... only to get right back on it within 20 seconds)... Watching you laugh at your own silly jokes and then joining in because your laughter alone made me laugh… Your wisdom about life and good advice "not to swing at every ball..." Your creative and strategic mind… Making plans together and building on each other's ideas… Our multiple daily hugs and kisses… Swinging together on our patio… Trading the newspaper sections back and forth and sharing our reactions… Family gatherings in Boulder, CO, and Bernardston, MA… Witnessing your ongoing generosity to others… Your curiosity about life… Your courage to stand up for what you believe in… Your individuality… Your energy and love of life… Your support, participation and pride in my endeavors — learning to play the guitar, healthy eating, daily exercise, community volunteerism... Your regular evening request that I practice my guitar so you could listen and quietly contemplate life and relax… Your willingness to always make time to listen and respond… Your incredible ability to help me problem-solve any difficult situation… Your steady commitment to those you called "friend"... Your eye for art and design of our beautiful home and surrounding land… Your ability to multi-task and organize projects… Snuggling on the couch to watch tapings of "CBS News Sunday Morning" and "60 Minutes"... Your precise way of organizing the dishwasher… Sharing raw cherrystone clams while on the East coast (you taught me how to eat and love them)... Our power walks in NYC's Central Park… Going to NYC live theatre productions and reaching for each other's hand during the performances… Traveling with you and your flexibility with time structure expectations upon our arrival… Collaborating on menu choices and splitting our meals when dining out… Sharing belly laughs at things no one else would find funny… Just spending time together alone...
Dennis, I love and miss you with every fiber of my being. As I go on this journey, I am trying to embrace my grief. As I move through each day, I feel surrounded by your love and regularly hear your voice saying "I love you Beau." This gives me a great deal of comfort and assurance that I will make it through because I know you are with me. Throughout our thirty four years of marriage, I have been grateful for our age difference of seventeen years. It allowed us to spend even more quality time together after you retired twenty five years ago. By imparting your wisdom on an ongoing basis, you taught me so much about life and aging gracefully.
"Let it be" (inscription on our wedding rings 6-25-81)
Beau
6/25/15
------------------------------
TRIBUTE FROM CHERYL, HIS LOVING DAUGHTER
Throughout my entire adult life I have had the honor and great pleasure of speaking with you at least once a week, if not two or even three times. Your voice came to me with advice, wisdom, support, compassion, concern and unconditional love. Within all of this your unabashed humor shined through along with stories of the past, knowledge of the present and predictions for the future.
My heart swells with pride for all you have accomplished and breaks with sorrow that I will never again hear you laugh, never again feel your warm embrace and never again be able to go to you for personal advice or to seek a much needed explanation of current events in the world and/or politics in our country.
At 58 years old the future still holds some adventures for me. But I'll have to navigate them without you – something I am not really sure I am ready for. But I know of course that you'd feel differently.
So here I go Dad – on my own. But I'll never forget you. I'll never stop loving you. I'll keep all that you have given me dear to my heart and close to my soul. I'll walk with my head held high staying true to who I am, regardless of the opposition, and I'll try in my own small way to make the world a better place. Because I am now you and you are I.
Thanks Dad, for your unwavering belief in who I am as an artist and writer since the time I was very small, and as a wife and mother in my adult life. And thank you for loving, protecting and guiding my children with the fierceness of a lion and with the tender love and compassion of a lioness.
Thanks for being my "Rock Star."
xoxo, Your daughter Cher
06/24/25
------------------------------
TRIBUTE FROM AUGUST, HIS LOVING GRANDSON
It's a strange feeling when someone you love passes away. Sadness, anger, frustration, despair -- they're all there, of course. But initially, you just feel dazed. You look out the window and see life all around you. And yet, somehow, there's a piece missing. You can't see it, and watching everyone else walking by would make it seem as if nothing were different. And you almost wonder if anything is. I mean, of course things are different -- the person who once occupied that part of your life no longer can, at least not in the same way. But while one piece has quite clearly and finally stopped, everything else just, strangely, keeps on moving.
I suppose in a way, it's like any other memory. Life changes, and some particular experience becomes completely contained within your mind, no longer existing in the physical realm. But I find it strange for an entire person's existence to be contained in such a fashion. We trust our eyes to validate our entire lives, to know what is real and what is not. And suddenly, you find yourself unable to do so.
Do I believe in an afterlife? Well no, not in the sense that there is some strange place "up there" where a person can exist just as they have here, looking down at the rest of us and clucking their tongue at our mistakes. I don't believe that, upon my death, I will then be able to join them, have a cup of tea and chat about "the days of old," although I can't discount the possibility. But if by afterlife you mean quite literally "after life," as in a continued existence in some fashion, then yes of course. What makes a person is more than simply their eyes or lips, the way they eat or walk or converse with all the joy and purpose and drive that makes them who they are. It is more than what they think or feel, how they view the world and what they believe can be done to make it beautiful again. It is more than their children, and grandchildren, and great grandchildren who do not yet exist and may only know them by name. A person is more than just the sum of their parts - they are also the sum of all the parts of others they have created and changed. So when a person may die, in the sense that their lungs stop circulating air, that their heart stops to beat blood through their body, they are of course not dead. The story that they have woven with now exists within each and every one of us. It is still there, alive and strong and breathing. No longer are they able to live on through themselves - now, they must live on through you.
Perhaps this is why I look out that window and feel that nothing has changed. Because in a way, nothing has. They are still here and always will be. Life continues onward in this crazy and fantastic dance, one that we can only begin to understand. And all we can do is dance along.
Poppie, throughout my 22 years you have been instrumental to my existence. You have shaped my past in ways that neither I nor you could have imagined. You are an integral part of who I am today. I remember as a very small child taking my first steps on your back porch, teetering on my tiny feet as I stumbled into your arms. I remember joking about how every time you came to visit you brought the rain with you, because the sky always seemed to open up upon your arrival. I remember marveling at your extremely bushy eyebrows, and wondering how you kept them from getting up and walking around on their own. I remember sitting out on your back patio, swinging gently in the cool Colorado evening, eating Rotisserie chicken and asparagus and talking in lighthearted tones about some of the heavier matters in life. Your wisdom and thought and caring on any subject I will always treasure dearly.
And finally, I remember returning home from my trip to India to seeing you there, smiling and eager to hear of my adventures. You were always so selfless in your interactions with others, giving in any way you could to help make them and their world more beautiful. Now begins the next chapter, and the future is scary, especially because I no longer can see your warm face before me. But I know that who you were and are and will be lives on within all of us, and I cannot wait to see what new things your story will shape.
Rest in peace, Dennis Rezendes. You will forever be my grandfather, my Poppie.
Your grandson, August
6/16/15
------------------------------
TRIBUTE FROM GRACE, HIS LOVING GRANDDAUGHTER
Dear Poppie,
I know we are all a little bit down. That we have lost our Grandfather, our Friend, our Husband and our Dad, but Poppie would want us to know he's in a good place and that he's watching us with a smile on his face. And we have made him proud, as proud as can be, that he has raised such a beautiful and special family. Thinking back I really must say I feel lucky and privileged to have known Poppie. For in my life he has played such an important role, and the memories I will treasure and keep close to my heart.
Although he has gone we will always know he is with us. His spirit will live on in each of us forever. We will look into the sky, and the brightest star will be Poppie looking down on us from afar.
Just want you to know Poppie, that we miss you, but could not be more thankful of the time we got to share with you.
Much love, Your Granddaughter Grace
6/18/15
-------------------------------
IN LIEU OF FLOWERS PLEASE CONSIDER A DONATION TO THE FOLLOWING:
Southern Poverty Law Center https://donate.splcenter.org/sslpage.aspx?pid=463
Emergency Family Assistance Association http://www.efaa.org/donate/
TRU Hospice https://www.trucare.org/product/donation/
------------------------------- CELEBRATION OF LIFE EVENT WILL TAKE PLACE AT A FUTURE TIME
-------------------------------
The New Haven Register Obituary
http://www.legacy.com/obituaries/nhregister/obituary.aspx?n=dennis-rezendes&pid=175414360
-------------------------------
The Fall River Herald News Obituary
http://www.legacy.com/obituaries/heraldnews/obituary.aspx?n=dennis-rezendes&pid=175411866&fhid=6726
See more
See Less
Services
No services are scheduled at this time. Receive a notification when services are updated.
RECEIVE UPDATES
In Memory Of
Dennis Rezendes
Help tell the story of your loved one's unique life. Leave a memory or share a photo below to show your support.