OBITUARY
Dennis Patrick Moran
October 24, 1952

–

July 27, 2022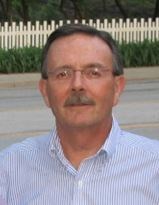 Dennis Patrick Moran, age 69, of Indianapolis, Indiana passed away on Wednesday, July 27, 2022. Dennis was born October 24, 1952 in Connersville, Indiana. He was a loving husband, father, grandpa, and dog grandparent. Dennis was often a quiet, reserved person who didn't initiate conversations with strangers, yet at the same time he never considered anyone a stranger. Dennis grew up in Connersville, Indiana during a time when life was simpler. It was there he developed his love of the outdoors and created a bond with animals. His ties to Connersville never ended, and he enjoyed coordinating high school reunions, especially his recent 50th anniversary. He then went on to graduate from Indiana University in Bloomington, Indiana as a member of the Beta Theta Pi fraternity. He fondly referred to those as his wild days and often liked to reminisce about his college days, eventually encouraging his two children to attend IU. After college, he moved to Indianapolis where one of his early jobs was a bank manager of a team of employees. In a twist of fate, one of those employees would later become the love of his life. He never lived to work but worked to live, believing that his work should support his family. He was proud to support all of them in their jobs, especially when cheering on his wife in her career. He created a wonderful life and settled down on the northside of Indianapolis, in the Meridian-Kessler neighborhood where he would establish deep roots and live in the same house for 43 years. That is where he would live, marry, and spend time with his ever-growing family. Dennis was known in that neighborhood for many decades as having the best kept lawn. He spent most weekend hours outside watering, mowing, fertilizing, and pruning his landscape. Never afraid of bad weather, he could often be found outside in the middle of any snowstorm happily snow blowing his and the entire block's driveways and sidewalks. Indianapolis was his home, and he was most proud of living here during the month of May. Each and every year for the past 40 years, Dennis and his family and friends would attend the Indy 500 with excitement. He was a proud ticket holder and inspired a love of racing in his family. Dennis was an involved father, eagerly volunteering to help design and build school projects and assist with his son's Boy Scout troop. He passed a love of tinkering with tools, woodworking, and general household projects to his son. He was a traditionalist in the sense that he instilled chivalry and respect for elders in his children. Dennis was always a father; no matter how old his children grew, he always insisted he was right, he knew more, and he would never let anyone else pay a bill. Stubborn in his ways, he insisted on wearing his phone on his belt at all times, buying too many Christmas ornaments each year, and rotating between penny loafers or the whitest sneakers no matter the weather. Dennis's love of classic rock music was evident and could easily be heard outside while he did yardwork. He became the in-house-chef after retirement and was known for making crowd favorites like fried egg sandwiches and the most decadent fettuccini known to man. Later in life he cherished summer family vacations where he was infamous for overpacking and making sure each and every arrangement had been made. He was notorious for hiding behind the sink doing dishes or in the laundry room washing clothes, but we all knew that was because he was a doer. His love language was acts of service. He loved watching his family have a good time and didn't complain of the aftermath he would ultimately have to clean up. He ended most conversations with either a "buh bye" or "be careful," never a simple "bye" or "I love you," but those close to him grew to know those phrases were his way of expressing his love. Collectively, we'd like say "be careful in heaven Dennis". Dennis is preceded in death by his mother, Phyllis Moran, his sister, Bonnie Jo, and his favorite yellow lab, Derby. He is survived by his wife Rhonda Moran, his son Nick (Stephanie) Moran, his daughter, Ally (Nick) Cummings, his beloved grandchildren Caroline, Jack, Henry, and Mason, his father, William Moran, sister, Cindy (Kirk) Hobbs, and niece, Emily (Brad) Freshour. A visitation for Dennis will be held Monday, August 1, 2022 from 4:00 PM to 8:00 PM at Leppert Mortuary – Nora, 740 East 86th St, Indianapolis, Indiana 46240. A Mass of Christian Burial will occur Tuesday, August 2, 2022 at 11:00 AM at Immaculate Heart of Mary Catholic Church, 5692 Central Avenue, Indianapolis, Indiana 46220. Dennis will be laid to rest in Our Lady of Peace Cemetery, 9001 Haverstick Road, Indianapolis, Indiana 46240. Fond memories and expressions of sympathy may be shared at www.leppertmortuarynora.com for the Moran family.
See more
See Less
In Memory Of
Dennis Patrick Moran
Help tell the story of your loved one's unique life. Leave a memory or share a photo or video below to show your support.