OBITUARY
Leona V. Higgins
April 23, 1926

–

May 30, 2020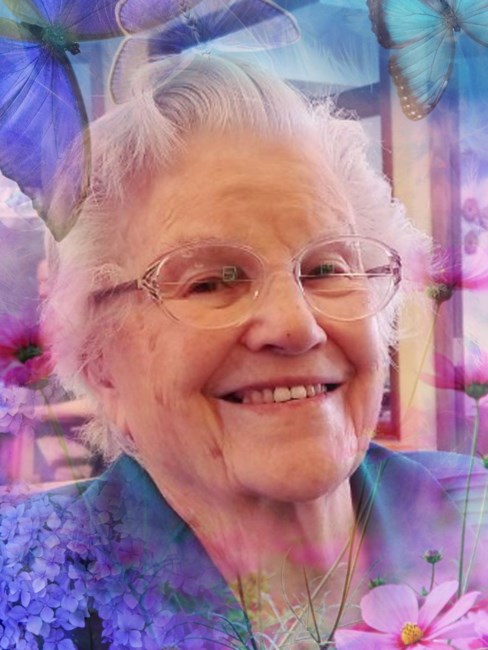 Leona Vesta (Rickman) Higgins of Longmont Colorado was born in Arriba CO on 04/23/1926 to James and Versa (Coy) Rickman. She was born the 6th of 9 children. Harvey, Clarence, Gladys, Ralph, Orrin, Leona, Dale, Grace, and Opal. She was born when times were hard, she was 3 years old at the start of the great depression. At 4 years old she and her brother Ralph, who was 9, caught Typhoid fever. Not having an automobile the local doctor drove them both to Childrens Hospital in Denver. This was her first time ever in an automobile and her first ride in an elevator was at the hospital. She survived the Typhoid, but sadly her brother did not. She lived through the days of drought and the dust bowl out on the eastern plains of Colorado. They would have to wet rags, blankets and rugs to put around the window sills and stuff them under the doors to keep the dust out during the big dust storms. When she was around 10 yrs old they moved from the eastern plains of Colorado to a western mining town above Leadville CO. The town was called Climax, at an elevation of 11,360 feet. Her father and some of her older brothers worked in the molybdenum mine and they all lived in a shanty. Her dad and eldest brother worked with explosives and sadly she lost her brother Harvey to an accident in an explosion at the mine. Her mother was grief stricken, and Leona stepped in to help care for her younger siblings, get them dressed and down the mountain to school in Leadville. She did this until her mother recovered from her grief. She was the very first in her family to graduate from high school with a big graduating class of 6 girls in 1944. Soon after graduating, she left the mining town and headed to Pueblo CO to attend Pueblo Business School with one of her brothers. She was 19 years old when she met and married Art Higgins. They remained happily married for over 65 years. They made their home in Pueblo CO where they had their son Ron and a few years later their daughter Terry. Leona worked for many years at Steele City Electric as a bookkeeper along with being a homemaker and mother. Art worked odd jobs and then he got a job at the Pueblo Army Depot as a computer operator right when computers were first being introduced. For a short time they even tried their hand at owning and running a small florist shop serving their community for weddings, proms, church flowers and funerals. Both being of a strong Christian faith they would drive to Trinidad CO every Sunday to attend The Church of God in Trinidad. After the kids had married and left home, they moved to Colorado Springs living in a double wide trailer. Art had found work at the US Air Force Academy as a civilan as the head of stock control where he worked until he retired and Leona took on jobs as a bookkeeper for small business's. After Art retired from The US Air Force Academy they moved to a townhome in Parker CO where they stayed for only a short time. Finally settling in a home in Lakewood CO. Leona loved tending to her beautiful flower gardens in her yard and had an impressive collection of bird houses. They also helped to start another Church of God in Littleton CO and would attend there every Sunday. They lived in their home in Lakewood until Art passed away in February of 2011. Worried about Leona having to care for a big house and yard all by herself, her son Ron had put her name on a list to move into a senior housing apartment just a few blocks from his home in Longmont CO. She was on the list for over 2 years, but sadly Ron died of a heart attack just 3 months before Leona got the call that they had an opening. Her daughter-in-law Vickie who was retired and now a widow, encouraged her mother-in-law to move to Longmont. So she did in April of 2015. She resided at The Lodge at Hover Crossing about 2 years. She enjoyed her apartment living and made a very close friend with another Vicki. After a fall in her apartment the day before Christmas Eve, Leona had broken her foot and would not be able to walk on it for several months. She spent several weeks in physical therapy at Frontier Therapy and after getting another serious illness, she was moved to The Peaks Care Center where she spent another few months recovering. When she was able to walk again with the help of a walker, she moved to Cinnamon Park Assisted Living. She lived happily there for almost 3 years sharing a divided room with her roommate Ruthie whom she got along perfectly with. She loved their beautiful flower gardens, never hesitating to bend over to pull a weed or two. She loved watching the birds gather at the feeders outside her corner window and sitting on one of the park benches to feed "her" squirrels a peanut or two. She enjoyed participating in the activities they offered the residents. Loved taking the art classes and she took her exercise classes very seriously. She attended all the parties and celebrations, eager to help bake for their annual Christmas bake sale and she always looked forward to taking one of the many planned bus trips to the local parks or the Denver theater. She always had a jigsaw puzzle going on a table in the main room, where she would sit for hours putting it together. She always had a book open and would read every day, reading a variety of books, including romances, mysteries and of course reading passages from her family bible. She had a few serious health scares over these past few years, but she always worked very hard, and somehow she always seemed to bounce back. She even had her gallbladder removed at 92, and was up walking in a day or two just like nothing had happened. Unfortunately it was after a debilitating illness with the the Type A flu in Feb of 2020, where she just could not get her full strength back. So after about a month at Frontier Therapy we had no choice but to move her back into The Peaks Care Center for long term care. She still had friends there from when she had stayed a few years before and she said she looked forward to seeing them again. She was always looking at the positive in difficult situations. Sadly after only being there for just a few days, they had to quarantine the facility due to the Coronavirus. On the day after her 94th birthday, April 24th she tested positive for COVID-19. After 5 long weeks fighting this horrific virus, it proved just to be to much for her, and she was soon to be called home to be with her lord and savior. She was preceded in death by her husband Arthur "Art" Higgins, her son Ronnie "Ron" Higgins, her son-in-law Steve Taylor, her 5 brothers and 3 sisters. She is survived by her daughter Terry Taylor and son-in-law Rick Cokeley of Pueblo CO, daughter-in-law Vickie Higgins and grandson Brandon Higgins of Longmont CO, granddaughter Tanya Higgins and her husband Steven Groesbeck, great granddaughters Easter and Alice Hannis of Frederick CO. She is also survived by many cousins, nieces and nephews. She asked me once why God hadn't taken her yet and I told her that it was because he knows that we still need her here. We will all miss her smiles, her hugs, her laughter and her "oh my's". She will be dearly missed by her family, the many friends she has made over the years, and by her fellow members from The Church of God in Littleton and in Trinidad CO, whom all she loved like family. They said she always had a positive spirit, admired her strength and her faith in God. We would also like to take this time to thank the many doctors, nurse practitioners, nurse's, the wonderful people at Suncrest Hospice and all the staff who cared for her over these past years, and especially during her illness with the Coronavirus. They always told me there was just something so special about her, and they were amazed of how independent and strong willed she was for her age. There will be no viewing or services per her wishes and also due to the risk of spreading COVID-19. In lieu of flowers we ask that you please donate to your local Humane Society in her honor.
See more
See Less
Services
No services are scheduled at this time. Receive a notification when services are updated.
RECEIVE UPDATES
In Memory Of
Leona V. Higgins
Help tell the story of your loved one's unique life. Leave a memory or share a photo or video below to show your support.