OBITUARY
Betty Lou Clifford
September 23, 1938

–

January 23, 2023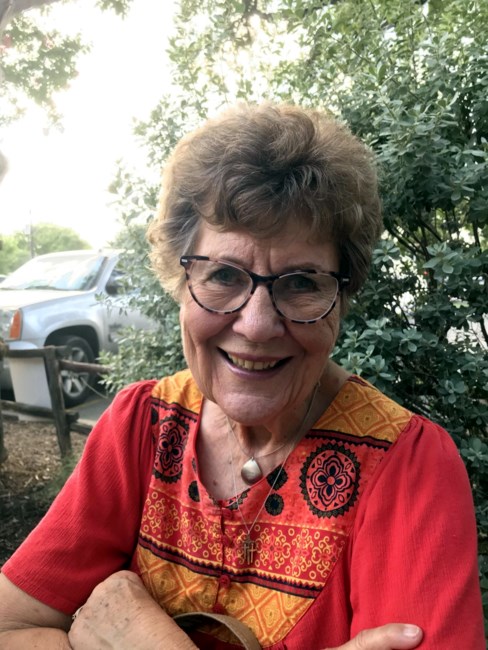 The world was diminished on January 23, 2023 with the passing of Betty Lou Clifford at her home in New Braunfels, Texas from complications related to congestive heart failure. It's always the case with an obituary, but we won't leave it unsaid: We really miss her. Betty Lou Rosenbrock was born in Karnes City, Texas on September 23, 1938 to Walter and Clara Rosenbrock. Betty was the second of five children (Bernice, Walter, Clarice, and Sandy). The family's early years were spent on a farm, where Betty learned the value of hard work and thrift but came to really dislike chickens due to some famously aggressive roosters. (Years later, Betty was to make some of the best fried chicken and gravy in the entire world, so count that as a win.) After graduating from high school, Betty had had enough of the rural life, so she went to secretarial school in Austin, Texas, determined to make her way in the world and despite her dad's opposition. At a YMCA dance, Betty met a dashing Air Force veteran and student at the University of Texas, Fred Clifford, who talked her right into a proper courtship and, on October 28, 1961, a marriage that would last until Fred's passing in 2021. Betty and Fred followed one of Fred's best friends from the University of Texas, Tom Ogelsbey (and his wife, Jan) to Albuquerque, New Mexico to start Fred's long career with Sandia National Laboratories. After a couple of memorable trips to Pacific islands connected with Fred's work, the couple welcomed their son, Dwain, to the world in August 1966. Not satisfied with one good thing, their prayers were answered for a daughter, Karen, in August 1968. Betty's stories of getting these two into the world were always brimming with joy at becoming a mom. It was fitting that Betty and Fred met at a dance, because square dancing was to become a huge part of their lives through the 1970s and 1980s. As members of the Mountain Doers square-dance club, the family took innumerable trips all throughout New Mexico and the Southwest -- who knew Farmington could be so much fun? But more than the fun of dancing, Betty and Fred met many of their lifelong friends as corners and dancers "across the hall" as the members' kids did the "popcorn" dance between dance sets. Betty was no helicopter parent, as best evidenced by the call she received from Dwain's elementary school principal asking if Betty knew why little Karen was at school,having just followed her brother to the bus and getting on for a ride -- a year before Karen was to start first grade. They were different times, and mom was the best mom we could ever have asked for. After the kids were in school, Betty went to work at Rock Creek Apartments, which was not her favorite choice, including an instinctual mistrust of tenants with beards -- in the 1970s no less! That didn't last, and Betty soon started work as a secretary in the office at Roosevelt Middle School, which was not Dwain's favorite choice because she was right there for visits to the principal, including a famous (and unjust!) incident being pulled by the ear by an angry librarian who was just a little too sure that paper cutters are not for cutting pennies in half. No story of Betty's life would be complete without mention of a very long, and very adventurous, trip the family took in the early 1980s in their F-150 pickup all the way up the California coast to Seattle and then back to Albuquerque through Utah, Colorado, and all parts in between. There were slugs, which is no small thing to two kids raised in New Mexico. And there were shrimp, which was no small thing to Betty, who would never eat something with visible legs. It is rumored that no waterfall in any of those states went unvisited. (And you need look no further for proof of Top Mom honors than Betty's willingness to eat Filet-O-Fish sandwiches when the kids asked for another stop at McDonalds.) But the best trips were the annual summer vacations to spend time with Betty's mom and dad, brothers and sisters, and all of their kids in Port Lavaca, Kenedy, and many other Texas towns. After retirement in 1994, Betty made sure to get away from the cold and the snow of Albuquerque, settling with Fred in New Braunfels, Texas where, years earlier, the family had enjoyed one of the many Schneider family reunions in Landa Park. In retirement, travel for dancing was replaced by a long list of Elderhostel trips, including mom's appreciation for and fascination with Native American art and history. Betty was also an insatiable reader who, if unhappy with a book, was known to start skipping paragraphs, or maybe all of the even-numbered pages, but she loved to read. In addition to fiction, Betty also loved to read about politics with a noticeable bend towards conservative writers -- the latest copies of National Review and Conservative Chronicle could always be found on the kitchen table. Betty could recall a stunning amount of trivia and whatnot about politics, which led to many letters to the editor of the Herald Zeitung newspaper, including one that garnered a response starting, "Betty Clifford's tirade is simply too much to ignore." Well, yes, and that's why we loved her. (Karen may have been in the habit of turning Betty's political bumper-sticker magnets upside down, but that's a story for another day.) Betty's fondness for reading was, just maybe, matched by her fondness for plants. When Betty and Fred bought their house in New Braunfels, there was nothing for two solid acres but grass and Edwards Aquifer rocks. But with Fred, she created a beautiful yard, paths around the house, and a gazebo to watch birds. There were many battles with the deer, which was finally won with sprinklers triggered by motion sensors. The deer, and a particularly unfortunate armadillo, learned not to mess with mom's plants. Betty, with Fred, spent her years in retirement attending the New Braunfels Christian Church, where they met many of their treasured friends. Betty also stayed active volunteering in and around New Braunfels, including tutoring kids with the Help Our Students to Succeed program and working at the visitors' center for the New Braunfels Chamber of Commerce. When Fred passed away in January 2021, the COVID pandemic and its restrictions caused the family to pause a service for him. Now, Betty has caught up with him, joining dad forever before God and friends and family waiting for her in heaven. The family will hold a service celebrating both of their lives at the New Braunfels Christian Church at 2:00 pm on February 4, 2023. You may also visit Betty's memorial website, https://www.dignitymemorial.com/obituaries/new-braunfels-tx/betty-clifford-11119380, if you'd like to spend some time remembering her and Fred and, perhaps, leaving your own thoughts.
See more
See Less
Services
Saturday,
February 04, 2023
Celebration of Life for Fred and Betty Clifford
2:00 pm
New Braunfels Christian Church
In Memory Of
Betty Lou Clifford
Help tell the story of your loved one's unique life. Leave a memory or share a photo or video below to show your support.