OBITUARY
Thomas Livingston Gaudry, Jr.
November 3, 1947

–

May 10, 2023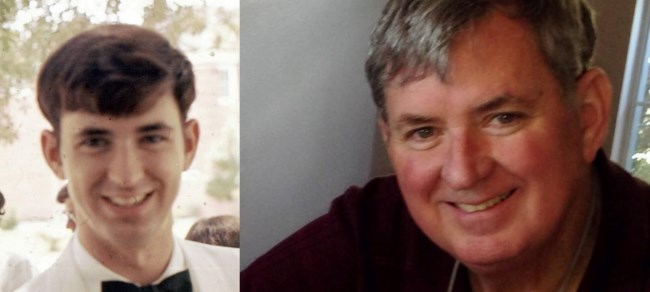 Thomas Livingston Gaudry, Jr., known as Tommy or Tom to his friends and family, Dad to his children, and Pepere to his grandkids, passed away on May 10, 2023, at 75 years old. He leaves behind an enormous hole in our lives, but he also leaves us with indelible memories of his moral and mental strength, fearlessness, deep love for us, and irrepressible sense of humor. Tommy was born in New Orleans on November 3, 1947, as the middle of five sons of the late Margaret Helen Muldrey and Thomas Livingston Gaudry, Sr. He grew up uptown near Audubon Park on Patton Street, spending summers playing in the Audubon swimming pool and ball fields. He graduated from St. Francis of Assisi in 1961 and Jesuit High School in 1965. He met the love of his life, Mary Shelley Smith (Shelley), just before his senior year at the University of New Orleans (LSUNO). For the rest of his life and through their 51-year marriage, Shelley was his heart and soul. For years, when Tommy was asked to share the secret of his long and beautiful marriage, he would smile and shrug, joking, "She just worships the ground that I walk on." After graduating from UNO in 1969, Tommy served six years in the U.S. Army Reserve while marrying Shelley (March 29, 1972), graduating from Loyola Law School (1974), and clerking for Judge Thomas Wicker. He later built what became the law firm of Gaudry, Ranson, Higgins, and Gremillion, stayed active with the Phi Kappa Theta fraternity from UNO, and enjoyed Loyola Law School reunions. While he was not a simple man, he seemed to find the most joy in the most simple, straightforward things: fishing, basketball, vacations and time with his wife and family, the Great Smoky Mountains, Bay St Louis, his gardens, his back porch, and telling stories (and more stories). He enjoyed music of all kinds, particularly rock and roll and musicals. He wore Converse shoes and embraced cutoff jean shorts well before (and long after) those were cool. His kids and grandkids called him the Condiment King for his love of all condiments, the Weatherman for his obsession with weather, and the Duck Whisperer for his habit of adopting baby ducks. Throughout his life, Tommy embraced joy, finding it most often in his wife, family, and friends. Tommy is preceded in death by his parents and his brother, Chris. He is survived by his wife, Shelley; his daughters Jeannette (Chris), Lisette (Stephen), Paulette (Tony); grandchildren Annette, Juliette, Sophie, Charlie, Tommy, and George; his brothers Bob (Kathy), John "Doc" (Wanda), and Charlie (Gail); many cousins, nieces, nephews; and a wealth of friends from every corner of his life. Tommy was a husband, father, grandfather, and brother of incomparable and unconditional love. He fulfilled his mission of being the ultimate provider for his family. Tommy, Dad, Pepere, thank you. We cannot imagine life without you and are who we are because of you and your love. We will carry you and your strength with us for the rest of our lives. Tommy's visitation will be held Monday, May 22, 2023, from 9:00 - 11:00 AM at Lake Lawn Metairie Funeral Home, 5100 Pontchartrain Blvd., New Orleans, LA 70124. His memorial mass will begin at 11:00 AM, followed by interment.
See more
See Less
In Memory Of
Thomas Livingston Gaudry, Jr.