OBITUARY
Henry "Hank" R. Frankel
October 11, 1944

–

November 2, 2019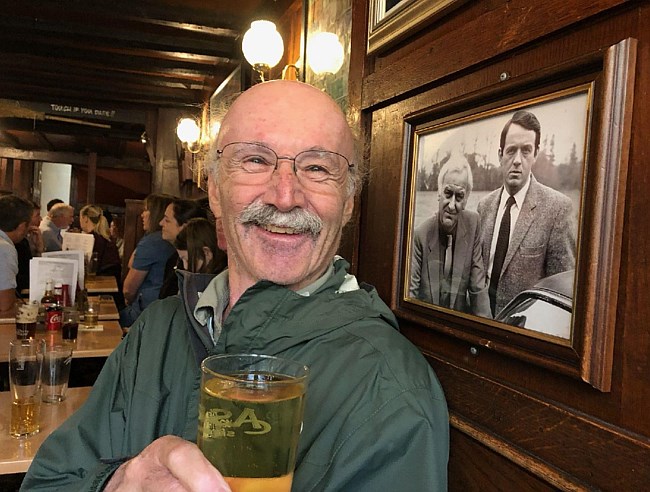 Henry Frankel, 75, died Saturday, November 2, 2019, at KU Hospital following a brief illness. He was born October 11, 1944 in Summit, NJ and lived there until his college days. He spent summers at the Jersey shore getting red as a lobster and body surfing. He taught his cousins to play softball on the beach, laughing and hitting and retrieving the softballs into the sand dunes while his uncle exclaimed, "For chrissake Hankie, stay off the dunes!" When darkness fell, he enjoyed gazing at the stars and pointing out the constellations to anyone who would listen. All his wife and daughters know about his teenage years is that he spent most of it mowing his parent's sizable lawn. Hank earned his B.A degree from Oberlin College, and his Ph.D. from The Ohio State University. He was a professor of philosophy at UMKC for 43 years, retiring in 2014. During that time, he taught and mentored countless students, many of whom became life-long friends. He found pleasure in teaching logic and ancient philosophy to those undergraduates who wanted to learn, but woe to those who thought they could sail through without effort. Always eager to help his students learn, he spent as much time as needed out of class to help a struggling student succeed. During his career, Hank published over 45 academic papers and book reviews, culminating in his life work, a four volume book, The Continental Drift Controversy, published in 2012 by the University of Cambridge Press. These volumes are considered to be the definitive work on continental drift and plate tectonics in the field of earth science. Professor Frankel has been highly praised for his accessible writing style and depth of knowledge on the subject. The book was selected by the journal Choice as the Best Academic Title of 2012. Among his awards and honors are: Geological Society of America Fellow and recipient of the Society's 2014 Mary C. Rabbit award in recognition of his lifetime achievement, the first philosopher of science to win the award; the Geological Society of London's Sue Tyler Friedman award in 2013; and the 2015 Thomas Jefferson Award from the University of Missouri. During his tenure at UMKC, he received numerous grants from NSF, NEH and the University of Missouri. Hank and his wife Paula celebrated their 50th anniversary last month with a trip to London. He was immensely proud of his two daughters and his two granddaughters. Paula and Hank enjoyed gardening together, and Hank built and worked tirelessly on their backyard water garden. They have been active patrons in the local art community for many years. In his retirement, Hank was able to get back into playing golf on a regular basis and was happy this summer when he "shot his age." He kept active professionally during this time as well, delivering lectures, writing papers, and working on a second, shorter and more accessible book on the continental drift controversy. Family and friends fondly remember him as somewhat of an "absent-minded professor," since his brilliant mind was usually on a higher plane than that of the rest of us. One of Hank's best qualities was his loyalty to his friends and family. If you were one of the lucky ones he cared for, you could always count on him to be there for you. He is survived by his wife Paula, daughters Johanna Comes (Ben), and Nora Frankel, his granddaughters Rosemary and Margaret Comes, brother Howard Frankel, M.D. (Judy), numerous nieces, cousins, and many friends and admirers. A celebration of Hank's life will be held from 1 to 4 p.m. on Sunday, December 8th in the café at the Golden Ox Restaurant, 1600 Genessee, KCMO 64102. Memorial donations may be made to a socially progressive or environmental organization of your choice, or to the KU Genetic Counseling Support Center, University of Kansas Health Center, Westwood, KS 66205. To donate online, go to kansashealthsystem.com/giving, indicating that you want your donation directed to the Genetic Counseling Support Fund. Hank always signed his correspondence: "Joy, Hank" – so here's to you Hank, "Joy".
See more
See Less
Past Services
Sunday,
December 08, 2019
Celebration of Life
In Memory Of
Henry "Hank" R. Frankel
Help tell the story of your loved one's unique life. Leave a memory or share a photo or video below to show your support.