OBITUARY
Phyllis Edgecomb Carter
May 8, 1926

–

September 9, 2021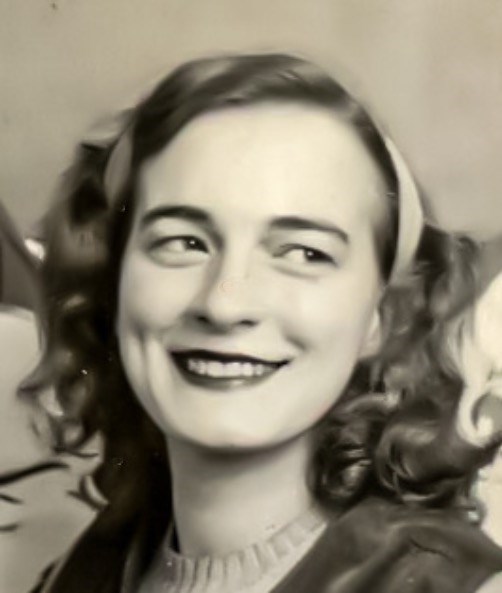 Westbrook, ME - Phyllis E. Carter, 95, of Portland Maine passed away September 9, 2021 at home surrounded by her children. Phyllis was the daughter of Gladys Kinney and Elwood Edgecomb Sr.. She grew up in Hallowell and after graduating from Hall-Dale High School, moved to Portland. She attended the Portland School of Art while living across the street at the YWCA where she developed lifelong friendships.
Phyllis was a survivor of polio and spent many weeks during childhood in the Boston Shriners Hospital for Children where she underwent multiple surgeries. She was physically challenged throughout her life; this would not be a deterrent for her. Phyllis would go on to lead a full, adventurous and meaningful life. In 1951 she married Joseph L Carter, a Chaplain's Assistant for the US Air Force. Phyllis and Joe lived in several states while Joe was with the Air Force. They had homes in New Mexico, Kansas, Michigan, and New York. In 1954 Phyllis also traveled alone with her two oldest children, then toddlers, to French Morocco where Joe was stationed. Having a terrible fear of water, this journey, aboard a military transfer ship, was a harrowing one for her. The family left Morocco under the shield of night months later "with a Moroccan behind every tree to protect the caravan" as a civil war was breaking out.
Phyllis and Joe had 4 children before settling into a home they had built in Washingtonville, New York. She would often describe their time there as among her fondest. The home was located in the country along the Sarah Wells Trail, later known to be part of the underground railroad. She worked for two years for Saint Luke's Hospital as a book keeper and personal assistant. The older children have many happy childhood memories of this home nestled between a cornfield and cattle farm. They would welcome two more children before returning to Portland in 1961.
Phyllis took a job with the Osteopathic Hospital of Maine, then just a small wood building off of Brighton Avenue. She worked there for 25 years, eventually managing records and payroll for the X-ray department. Her role in the department provided not only a great sense of pride but many meaningful bonds evolved there that would assist her in seeing through many difficult times in her marriage and with her children.
Five years after moving to Portland she and Joe rented a home in a prominent part of the city near the Osteopathic Hospital. Soon after, they had the opportunity to purchase. It was a three floor, ten room old captain's home with a widow's walk. In the years to follow, Phyllis would come to raise her growing children on her own. It was lessons on frugality learned from growing up during the Depression that would prove to be the means by which she overcame financial hardship, kept her home, supported her family, and established financial security for her senior years.
Her children remember, now with a sense of awe, having a much better grasp of the difficulties of the time, her incredible energy and "can-do" spirit. She met problem after problem head-on and despite the many challenges of maintaining and managing a big home and family, she found time to paint and paper every room, putting her creative skills to use making the house her family's home.
Phyllis was supported over the years as well, by a large family. She was of a generation that saw each other through. She has spoken many times of the generosity of her large family and all that was done to help her during rough times: a place to stay during transitions, someone watching the kids, produce from a family garden for canning and freezing; hand-me-downs for school and special events. Her brother had a large camp open to the entire family that would become a welcome weekend reprieve for all sorts of water, outdoor and fireside activities throughout her children's growing-up years. This fueled a love of the outdoors and strengthened extended family ties. She enjoyed recent visits with her niece Cathy and the long, thoughtful and humor-producing conversations they had.
Just before retiring and as her children were all on their own, Phyllis sold her dream home and purchased a small abandoned home in East Deering. Having a green thumb and avid interest in growing flowers from seed or stem, she secured a blueprint for a passive greenhouse. All of her children together with her son in law, assisted in tearing down an existing porch, replacing it with the innovative, energy efficient structure which remains a unique feature of the building.
Phyllis had numerous hobbies and interests over the years that included portrait sketching and painting, sewing/seam stressing, crafting, rug braiding, gardening, woodworking, ceramics, treasure hunting and cake decorating. Together with her son, she honed new cabinets for her large kitchen and a beautiful heirloom cradle for her first grandchild, later to be handed down. She was an expert seamstress and fashioned many dresses and gowns for her daughter's school days and special occasions. Many will remember Phyllis by a cake she made for a birthday, shower, wedding, retirement or going away celebration complete with fancy piping, weaving, fondant flowers of all sorts and marzipan decorations. Her children, grandchildren and nieces and nephews will recall the dozens of and dozens of fancy-decorated Christmas cookies that were a highlight of their Christmas festivities. Phyllis was a crossword addict, an avid scrabble player and most recently a PBS Create TV fan.
Phyllis developed a keen interest in buying and selling items found in yard sales and auctions. For many years, she attended auctions with her sons and became easily adept at photographing, describing, and communicating about items she would put up for sale on-line. She took great pleasure in this and chatted by email with individuals all over the world about their hobbies and the history behind their collections. She is predeceased by two sons Lawrence Carter and Michael Carter and grandson Larry Lee Carter. She is survived by Gerald "Jerry" Carter and his wife Linda, of Standish; Carol Jo Morse "CJ" and her husband Roger, of Westbrook; Paul Carter and his partner Vivian Ramos of Waterboro; and Mary "Betsy" Haskins of Middletown, Virginia. Surviving grandchildren are Jerry Joseph Carter, of Perris, CA, Scott Carter of Cumberland Foreside, Emily Morse of Austin, TX, Josiah Morse of South Portland, Allie Stockwell of Windham, Crystal Carter of Windham, Samantha Carter of Lewiston, Claire Haskins of Harrisonburg, VA, Peter Haskins of Middletown, VA and Amanda Carter of Gray. Phyllis had 17 great grandchildren.
A celebration of life will be held at Two Lights State Park on Sunday, September 19, 2021 from noon to 3pm. Friends and family are invited to stop by and share photos and memories.
In lieu of flowers, contributions may be made in her memory to the Shriners Hospital for Children- Boston, 51 Blossom St., Boston, MA. 02114 https://tinyurl.com/shrinerschildren
See more
See Less
Past Services
Sunday,
September 19, 2021
Celebration of Life
In Memory Of
Phyllis Edgecomb Carter
Help tell the story of your loved one's unique life. Leave a memory or share a photo below to show your support.