OBITUARY
Dr. Alan Lawrence Goldman
January 3, 1938

–

April 17, 2020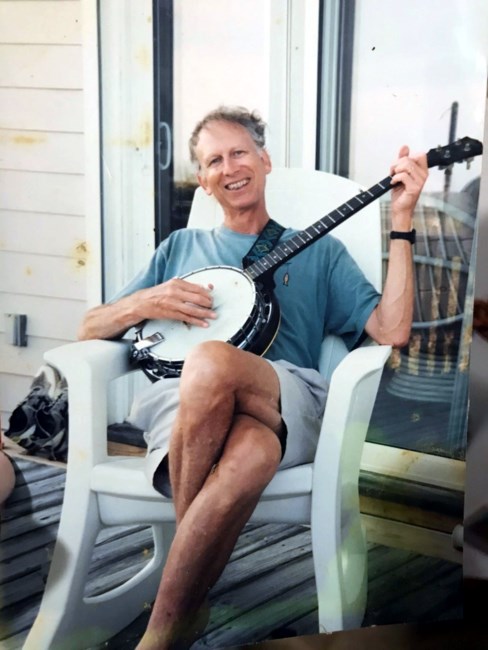 Alan Lawrence Goldman died peacefully at the age of 82 on April 17, 2020. Just a few hours earlier his wife and daughters gathered bedside. Holding his hands, they retold stories of the school projects he took charge of, the coffee ice cream he loved, and his lifetime list of winnings playing poker with his Raleigh guys. Alan, son of Alfred Goldman and Miriam Londy Goldman, grew up in St. Louis with his brothers Tom and Roger. He was such a scholar that he would attend chemistry lab on Saturday mornings . Did he get extra credit? Nooo it was just an interesting class and the teacher would toast hot dogs over Bunsen burners. Alan's summers at Camp Nebagamon in Wisconsin--fishing, teaching archery and riflery, singing, and playing hilarious songs—had a huge impact on his life. There, his 6'3" stature earned him his nickname of "Highpockets." Years later, the Camp Nebagamon director set Alan up with Jill Rashkis for their first date—a study date mind you—and the rest is history…including the Myrtle Beach Honeymoon during which Alan thought it a wonderful activity for him and his bride to go deep sea fishing. Jill enjoyed it except for the throwing up part Jill and Alan moved around the country from St. Louis to Denver to New Jersey to Beaufort, SC where Alan learned to be a pediatrician. The Goldmans arrived in Raleigh in 1971- there was a new neonatologist in town. Actually, Alan was the first and only neonatologist in town. (Harvard undergrad and Washington University Medical School). He soon joined Bob Fleming and Steve Edwards at Raleigh Children and Adolescent Medicine. He loved working with children, especially his own three: Brian, Betsy, and Melissa. There was nothing he loved more than gleefully making up practice chemistry tests for them. Fifth grade science teachers were surprised when the Goldman kids would show up with fancy test tubes of chemical compounds for the science fair. He wasn't a Harvard chemistry major for nothing. Music was a huge part of Alan's life. He played piano by ear, guitar, banjo, and hammered dulcimer, but his favorite was always the banjo. At Harvard, he joined a rockabilly band called the Raunch Hands and they made two records which are still in the collection at home today. Every year he'd take the family to the beach. When he wasn't catching fish with his kids and later grandkids, he was sitting on the deck playing the banjo and singing bluegrass songs. He did everything ridiculously well. He loved playing golf, tennis, horseshoes, poker, cribbage, bowling and fishing. 30 degrees out? A fine day for golf. Going to play mini golf with the kids? Wait-let Alan go grab his own putter to bring along. He was also a master woodworker, building furniture in his home workshop for his kids, grandkids, and friends. The secret to Alan's happiness was that he appreciated what he had: He'd happily drive his Honda for 20 years. That boxfan from 1967? Purrs like a kitten. He didn't need a cell phone, he'd borrow a landline from the store if need be. Travel the world? What was wrong with Emerald Isle and Brevard each year? Alan was passionate about nature. He taught his family all the names of the trees, flowers and plants, and loved hiking, camping and fishing on Sierra club backpacking trips with Jill. Jill is a gourmet cook, which Alan appreciated, but he was just as happy with whatever was placed before him. Alan could poke his spoon into a bowl of stale cornflakes, take a bite and say, "mines fine". You could always see Alan coming with his huge smile, Tilley hat, and light blue fishing jacket. He's survived by loving wife Jill, daughters Betsy, Melissa, Melissa's husband Scott Rouse, Brian's wife Michele and grandsons' Jared and Ben Goldman and Jake and Austin Rouse, beloved brothers Tom of Mill Valley, CA and Roger of St Louis, MO and of course Stephanie and Barb, and nephews Sam and Josh. Also it is most important to remember dad's poker guys: Steve Edwards, Hank Cantrell, Scott Stephens, Nick Davanzo, Melvin Kennedy and Richard Ramirez. He will always live on in our hearts and lives. In lieu of flowers, contributions may be made to WCPE the classical music station, WUNC public radio and the Sierra Club.
See more
See Less
Services
No services are scheduled at this time. Receive a notification when services are updated.
RECEIVE UPDATES
In Memory Of
Dr. Alan Lawrence Goldman
Help tell the story of your loved one's unique life. Leave a memory or share a photo or video below to show your support.