OBITUARY
Rudolph "Rudy" Rivera Cadorna
May 20, 1925

–

July 31, 2022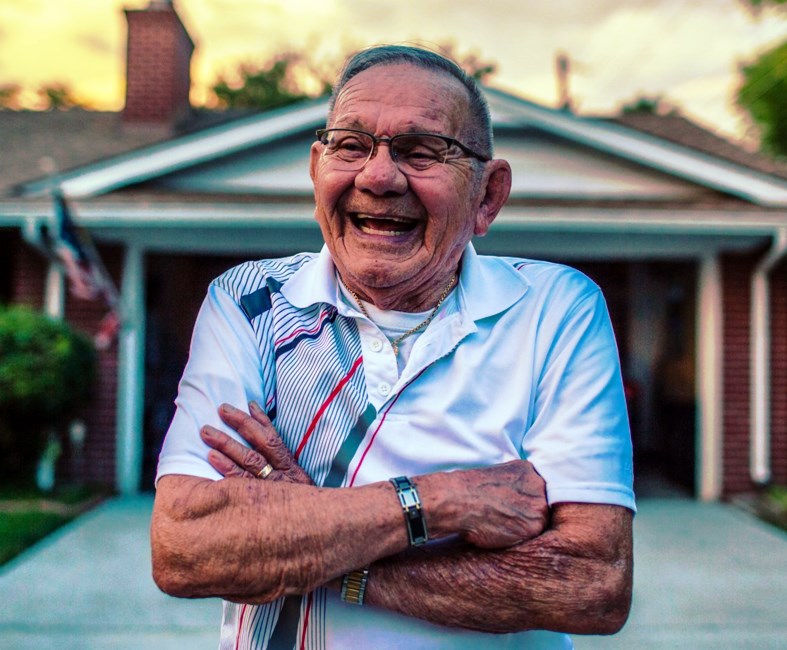 Rudolph "Rudy" Cadorna was a loving husband, father, grandfather and friend. Rudy passed away at 12:57 a.m. on July 31, 2022. He was surrounded by many of those who love him as he took his final breath. A celebration of his life will take place on August 12, 2022, starting with visitation at 1 p.m. and services at 2 p.m. at Olinger Crown Hill. Interment to follow. Reception to follow. Rudy was born to Eliseo and Pauline Cadorna 97 years ago in New Mexico. After the untimely death of his mother, Rudy moved to the Philippines with his father and brother Rueben Cadorna (deceased). Rudy served in the army, which eventually took him to Arkansas where he met his first wife Stella Cadorna (deceased). He and Stella moved to Denver, Colorado where they had three children—Bill Cadorna, Pauline Segura and Sherrie Martinez. After 25 years of marriage, Rudy and Stella divorced. Rudy would go on to meet the love of his life Eileen Cadorna. Their love story began 46 years ago and has been the subject of admiration of many. Together they traveled, danced, laughed and loved. Rudy and Eileen couldn't even enter or leave a room without exchanging a kiss. Rudy loved to spend time with loved ones. He and Eileen especially enjoyed spending time with Eileen's sister Doreen Wendelin (deceased), along with Eileen's mother Dorothy "Dot" Wendelin (deceased). When Doreen and Dot fell ill, Rudy was there to not only support Eileen, but gave unparalleled care to Doreen and Dot. Rudy was a doting, albeit feisty, father and grandfather. He enjoyed talking with his son Billy and his wife Sandy Cadorna who excelled at ensuring Rudy and Eileen were cared for as other loved ones lived elsewhere. Bill and Sandy gave Rudy two grandchildren Ian Cadorna and Aryann Roberts, who in turn gave Rudy five greatgrandchildren. Ian and his wife Carrie have twins August and Lance and son Hugo. Rudy took great pride in knowing that the Cadorna name would live on through them. Aryann and her husband Dustin have son Gannon and daughter Gentry, who grandpa enjoyed teasing. Rudy had a fun relationship with his daughter Pauline. They enjoyed exchanging barbs and witticisms that would be deemed inappropriate with any other father other than Rudy. Pauline and her husband Michael gave Rudy three grandchildren, Brandi Planet, Darren Segura and Shannon Segura. Darren and his wife Mandi gave grandpa four greatgrandchildren—Shaun, Conner, Amelia and Stiles. Rudy was able to meet the newest addition Stiles just before he passed. Rudy enjoyed asking his granddaughter Shannon when she was going to "get knocked up". In fact, that's how he said hello to her on the phone. Just a few months ago, Shannon (husband Jeremy Cloe) was able to tell Rudy that she was expecting, and he got to see her before he passed. Rudy and Brandi also had a fun relationship that was made up of inappropriate comments, good natured jabs and a lot of laughs. Sherrie was Rudy's baby girl, and they shared a sweet connection. Sherrie made sure Rudy had plenty of pinto beans, menudo and sardines. Sherrie and her husband Ray (deceased, but boy did Rudy give him quite a nickname that certainly can't be shared here) gave Rudy three grandchildren, Ray Martinez Jr. (wife Tanya Oblia), Melissa Martinez and Chad Martinez. Chad and his wife Krista gave Rudy three greatgrandchildren—Xavier and another set of twins, Penelope and Sydney. Rudy loved to tease Chad about his love life as a result. Similar to other relationships, Rudy, Melissa and her husband Kody Gerkin also enjoyed teasing each other, laughing at inappropriate jokes and sharing stories about Rudy's past. Everyone who knew Rudy knew he enjoyed a good laugh and had an unapologetic approach to life. Rudy was known to flirt and ask for kisses from the women he knew at his favorite restaurant the Westwood Inn and local pharmacy (where the ladies called him Mr. Donut man and that's not a euphemism). It wasn't unusual for his grandchildren to buy him sexy underwear, hilarious t-shirts or other gag gifts as payback for his past gifts of condoms and bras. Friends loved to give him things that would make him smile, whether that was his red stuffed car (Rudy had always wanted a red car) or politically inspired toilet paper. Rudy also never missed watching a Colorado Rockies or Denver Broncos game. You never knew what was going to come out of his mouth or whether he'd be wearing pants when he said it. One thing we do know is that like Frank Sinatra, he did it his way. Rudy you will be missed more than words can say. The world isn't the same without you napping in your chair, piping up only when something piqued your interest. We can't wait to see you again so you can ask "what is it". We send you on with all the love we have.
See more
See Less
PALLBEARERS

Ian Cadorna

Darren Segura

Michael Segura

Chad Martinez

Jeremy Cloe

Dustin Roberts
In Memory Of
Rudolph "Rudy" Rivera Cadorna
Help tell the story of your loved one's unique life. Leave a memory or share a photo or video below to show your support.