OBITUARY
ShaoKui Hwang
December 22, 1938

–

August 1, 2022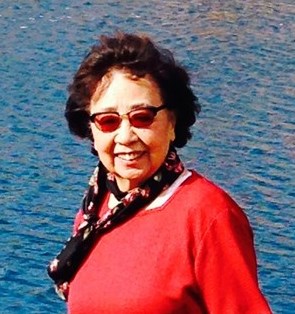 Ms. ShaoKui Hwang 黃紹葵女士生平簡介 黃紹葵女士,1938年12月22曰出生於四川成都。兄弟姐妹八人。1949年由於戰爭與父母和大姐長弟,大海相隔,天各一方。她身為次長女如父如母,爲撫養五個弟弟妹妹到処打工,勵經千辛萬苦,嘗儘人間世態炎涼。 1956年紹葵爲給弟弟妹妹更多經濟幫助,從成都遷到東北黑龍江省北大荒858軍墾農場。三年大饑荒中,成都的兩個弟弟營養不足又多病纏身,紹葵將兩個弟弟接到858農場。紹葵1957年與石益羣結婚。婚後養育一兒二女。1963年從858農場轉業到黑龍江省五常市林業局任會計。 經多方努力她終於在1975年底在香港與父母和大姐再次相見。1981年紹葵全家移民美國。她在 StorageTek, Sanmina 公司工作,直到2009年退休。她晚上與週末經常去照顧陪伴父母。 紹葵在2003年復活節受洗接受主耶穌作她的救主。紹葵熱愛生活,積極樂觀堅強,生活獨立,樂於助人。 她有諸多愛好, 其中包括讀聖經,唱詩歌,與家人聚會,関心他人,做四川美食,縫紉,種菜養花,旅遊,交友,散步等。她與各種不同年齡的人都成為好朋友。她經常與大家旅遊,登山,散步,和分享自己做的四川美食。每次她參加教會聚會,她做的四川辣面,涼拌辣菜,八寳飯等,都是特別受歡迎的菜餚。 黃紹葵因病於2022年8月1日夜安詳辭世於美國科羅拉多州Louisville 康復中心,享年84歲。遺有一子兩女,孫輩四人,曾孫輩二人。 黃紹葵爲弟弟妹妹操勞,後得與父母和家人共享天倫。 黃紹葵女士安息主懷! Brief Biography of Shaokui Hwang Shaokui Hwang, beloved family matriarch and avid cook, passed away peacefully at the Flatirons Health and Rehabilitation Center in Louisville, Colorado on August 1, 2022, at the age of 84. She is survived by her son and two daughters, four grandchildren and two great grandchildren. Shaokui was born to the late Chung Hsiang Hwang and Yuan Tu (Hu) Hwang on December 22, 1938, in Chengdu, China, as the second of eight children. In 1949, the war separated Shaokui and five younger siblings from their parents and eldest sister and brother. Shaokui, at the age of 11, became the primary caretaker of her five younger siblings for many years. She had worked very hard to support and care for them. In 1956, Shaokui left Chengdu and moved to No. 858 Reclamation Farm in the northern Heilongjiang to earn income that she could send back to support her siblings. One year later Shaokui married Yiqun Shi. During the three-year famine, her two younger brothers in Chengdu fell ill and Shaokui brought them to No. 858 Reclamation Farm to live with her. Shaokui and her husband were transferred to Forestry Bureau in Wuchang of Heilongjiang in 1963 where she took a role as an accountant. In December of 1975, Shaokui finally reunited with her parents and older sister in Hong Kong. Her family immigrated to the United States in 1981. Shaokui worked at StorageTek then Sanmina in Louisville, Colorado, until her retirement in 2009. She spent most of her spare time caring for her parents. Shaokui was baptized on Easter 2003 and accepted the Lord Jesus as her Savior. Shaokui loved life. She was positive, optimistic, strong, independent in life, and always willing to help others. She enjoyed spending her time reading the Bible, singing hymns, spending time with family, caring for others, cooking various Sichuan cuisine, sewing, growing vegetables and flowers, traveling, making friends, and walking. She had become good friends with people of all ages. She often traveled, hiked, walked, and shared various Sichuan cuisines with everyone. Every time she attended a church gathering, she cooked Sichuan spicy noodles, cold spicy dishes, or steam sticky rice with eight treasures, which were very popular dishes. ShaoKui had devoted her entire life caring for her family and friends. She will be dearly missed by her loving family and friends. Ms. Shaokui Hwang rest in peace! Fond memories and expressions of sympathy may be shared at www.CrownHillFuneral.com for the Hwang family.
See more
See Less
Services
Saturday,
August 27, 2022
LIVESTREAM
Funeral Service
10:00 am - 12:00 pm
Olinger Crown Hill Mortuary - Pavilion of Reflection
Saturday,
August 27, 2022
Reception
12:30 pm - 2:30 pm
King Buffet
In Memory Of
ShaoKui Hwang
Help tell the story of your loved one's unique life. Leave a memory or share a photo or video below to show your support.