OBITUARIO
Jane Anne Sloan
29 marzo , 1922

–

19 septiembre , 2022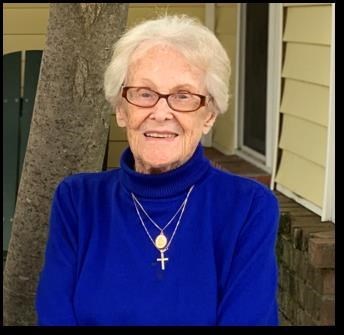 Jane Anne (Edwards) Sloan, passed away peacefully at the young age of 100 ½ on September 19, 2022, at Majestic Care Health Facility in Carmel, Indiana. Jane Anne was born at home on March 29, 1922, to Chester and Mary (McBride) Edwards in Flora, Illinois. She grew up (in her own words) in a family with lots of love and laughter, always with music, singing and group comradery. The family later moved to Washington, Indiana where Jane attended school and met her future husband, and love of her life, Robert (Bob) Sloan, in the winter of 1939. They began dating and their courtship lasted five years before their marriage on October 4, 1944, at St. Simon's Catholic Church in Washington, Indiana. Jane and Bob honeymooned on Coronado Island, off of San Diego, California before Bob would be shipped out for Naval Air Corps duty. While Bob was serving as a Naval Pilot during WWII on the U.S.S. Natoma Bay, Jane went back to the Midwest to work in a parachute factory as her contribution to the war effort. Jane and Bob were reunited during a leave near the end of the war and Bob was given the option to stay in the Navy or continue his education. Deciding on the latter, Jane and Bob moved to Boulder, Colorado where they attended the University of Colorado, he studied Civil Engineering and Jane, Industrial Psychology. There they began their family by welcoming their first child, Patricia Anne in November, 1946. Bob then secured employment with Standard Oil and Gas Company, and they moved to Elk Basin, Wyoming where he was a Cub Engineer. They later moved to Tulsa, Oklahoma where their second child, John Robert, was born in July, 1955. 14 months later the small family moved to Casper, Wyoming where Daniel Joseph was born, September, 1956. The family settled there until 1962 when they were transferred again to Calgary, Alberta, Canada. Their last child, Timothy Gerard, was born there in March, 1965. The following year Jane, Bob and family moved to Stamford, Connecticut where Bob was assigned to Standard Oil's International Division in New York City. Soon after, in 1967 a transfer to Teheran, Iran took place and Jane and Bob's overseas adventures began. After 2 ½ years, they were then transferred to Cairo, Egypt, where they fell in love with the beautiful country of Egypt and made some of their closest friends. After 6 years in Cairo, they were off to Port of Spain, Trinidad in the West Indies for another 6 years where they continued to develop strong friendships with other expatriates and local citizens. After nearly 15 years of overseas duty, Jane and Bob returned to the USA in 1980 to Houston, Texas. Two years later they retired to The Woodlands, Texas where they remained very active in a large community of friends through their church, (Sts. Simon and Jude), golf, and tennis. In 1996, their Indiana roots were calling so they moved to Carmel, Indiana to be near some of their children and grandchildren. Jane was the consummate Grandma always doting over her grands and great grands. In November, 2008 they began their life at Summer Trace Assisted Living Facility to support Jane in her caregiving of Bob who had developed Parkinson's. Jane was a wonderful caregiver always making sure that Bob's healthcare needs were being met. While at SummerTrace, Jane was a member of the Resident's Council and was the Welcoming Person who met with all new residents, took them to dinner and welcomed them into the community. Bob passed away in February, 2012, after 68 blissful years of marriage to Jane, who stayed at Summer Trace and continued as a member of the Residents' Council, participating in their many activities. Jane's hobbies included reading, sewing, gardening, music, entertaining, golf, bowling, crossword puzzles, playing "Tiles" with her grandchildren, and most of all, shopping and eating out. As a member of the Catholic Church, however, her faith was first and foremost in her life and a reason for her strength and happiness. She was a member of Our Lady of Mount Carmel Church in Carmel, IN where she made many friends and actively participated in church ministries. Jane was an Extraordinary Minister of the Eucharist, and an active team member of the Christ Renews His Parish (CHRP) program. Jane loved her children, grandchildren and great grands beyond measure, and it gave her such joy whenever she was able to spend time with them. She looked forward to being with all of them and they with her. Not only was Jane a very caring and loving Grandmother, she was a great mom as well. We always had food on the table, a warm, safe place to live and sleep, a listening ear and a shoulder to cry on when needed, and the proper discipline when that was needed too. We never went without. Jane is survived by her beloved sister and best friend, Julia Patricia (Patty) Wood, Indianapolis, IN, children, Pat (Mike) Schaefer of Hermiston, Oregon, John (Diana) Sloan of Whitecourt, Alberta, Canada, Dan (Marnie) Sloan of Carmel, Indiana and Tim (Jennifer) Sloan of Bowie, Texas, 11 grandchildren (Mark, Barbara, Robert, Matthew, Katie, Barbie, Rees, Jody, Samantha, Charlie and Patrick); 11 great grandchildren (Bryce, Whitney, Bethany, Kelsie, Ava, Miles, Jackson, Harrison, Avery, John and George); 2 great, great grandchildren (Grace and Baby Enyeart) and numerous nieces and nephews. Jane was preceded in death by her parents, Chester and Mary Edwards; her husband, Robert Sloan; sisters, Helen (Edwards) Sorensen, Ruth (Edwards) Donadio, Louise (Edwards) Rabin and brother, Joe Edwards. Jane was a supportive and loving wife, mother, grandmother, aunt and friend and she will be enormously missed by her beloved family and friends, but they are comforted by the fact that she was blessed with and lived a full and adventuresome life and is now with her beloved husband and resting in the arms of Jesus! The family would like to thank, the many members of the staff, nurses and CNA's at Majestic Care (Summer Trace) who took such good care of Jane during her residency there both in assisted living and in health care through their friendship, love and caring attention they have given to our mother. Thank you also to the Compassus Hospice Team who visited Jane and cared for her during her last few months. Jane made numerous friends and was loved by them all. Funeral services will be held on Monday, September 26, at 10:00 am at Our Lady of Mount Carmel Catholic Church in Carmel, IN. Viewing for family is at 9:00 and 9:15 for the public. Jane will be laid to rest in St John's Cemetery in Washington, IN. Leppert Funeral Home of Carmel, IN is in the care of arrangements. You may sign the online condolence book at https://www.dignitymemorial.com/obituaries/carmel-in/jane-sloan-10934742 "We Love You, Mom, Grandma and Aunt Jane, with all our hearts!!!" You will be lovingly missed. In lieu of flowers, contributions in Jane's memory may be made to Merciful Help Center, https://mercifulhelpcenter.org/; and Washington Catholic High School, https://www.wccardinals.org/contact.
VER MÁS
VER MENOS
Servicios Previos
lunes,
26 septiembre, 2022
Visitation
lunes,
26 septiembre, 2022
Mass of Christian Burial
En Memoria De
Jane Anne Sloan
Ayude a contar la historia de vida única de su ser querido. Deje un recuerdo o comparta una foto o video a continuación para mostrar su apoyo.